Central African Republic's UN protection force approved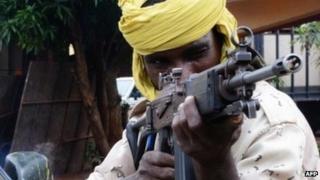 The UN Security Council has approved a special 250-strong military force to protect UN workers in the Central African Republic (CAR).
The UN director of humanitarian operations said CAR was "chaotic" and more than half the population was in need of assistance.
"The scale of suffering is among the worst in the world and getting worse," John Ging said.
CAR has been in a state of chaos since rebels seized power in March.
A rebel alliance known as Seleka ousted President Francois Bozize from office, replacing him with the alliance's commander, Michel Djotodia.
Last month, Mr Djotodia formally disbanded the rebels and integrated many fighters into the national army.
However, rebels linked to Seleka have continued to launch attacks on scores of villages, prompting the emergence of local civilian protection groups.
'Tinderbox'
The 250 UN troops will be taken from an existing peacekeeping force and based in the capital, Bangui, diplomats said.
The strength of the force will then be strengthened to 560 troops so they can deploy to areas outside the capital where there is a UN presence.
Mr Ging, who has recently visited CAR, said there was a worrying new religious dimension to the violence, with armed groups inciting Christian and Muslim communities against each other.
"We are seeing the seeds of a profoundly dangerous development between communities.
"It's a tinderbox that can ignite into something very, very big and very, very bad," the Associated Press news agency quoted Mr Ging as saying.
The African Union is in the process of deploying a 3,600-strong peacekeeping mission to the country - incorporating a regional force already on the ground.
Earlier this month, France said it was sending some more troops to its former colony where it already has about 400 troops based at the airport in Bangui.
CAR has huge deposits of precious minerals but has been plagued by chronic instability since independence in 1960.