South African officials arrested over 'Aids drug scam'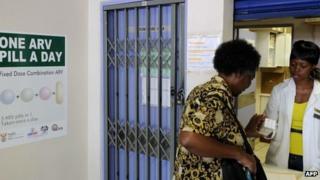 Two health department officials in South Africa have been arrested for selling anti-Aids drugs to patients in a sting operation, police say.
Anti-retroviral (ARV) drugs are supposed to be handed out free of charge to HIV-positive patients at public clinics and hospitals.
The elite police Hawks unit organised their undercover operation after receiving a tip-off from a patient.
The men will face charges of theft and possession of prescription medication.
"Patients were turned down at the Esselen Street Clinic saying there were no more ARV drugs. Then they were later contacted by two general workers who said they could sell them some drugs," the Sapa news agency quotes Hawks spokesman Captain Paul Ramaloko as saying.
Mr Ramaloko said they were selling the life-saving drugs for about 100 rand ($10, £6) a box and would tell patients these were from a "reserve batch".
"The arrested officials will appear in court tomorrow at the Hillbrow Magistrate court. The investigation started in May and was concluded in September," Mr Ramoloko told the BBC.
It is not clear how large the operation was or the extent of the scam, the BBC's Pumza Fihlani reports
The men were arrested on Wednesday after they apparently sold the medication to undercover officers.
"Those implicated must face the consequences of their actions," Simon Zwane, the spokesman for Gauteng province's health department, said, Sapa reports.
South Africa has one of the highest rates of HIV in the world and the country's health officials say it has the world's largest ARV drugs programme.