Renamo rejects Mozambique's Armando Guebuza talks offer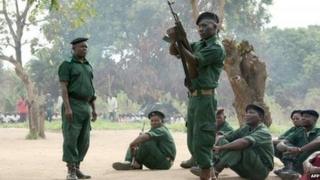 Mozambique's main opposition party, Renamo, has rejected President Armando Guebuza's offer of peace talks following recent clashes.
Renamo's Vicent Ululu told the BBC that the offer meant nothing while the government wanted to kill Renamo leader Afonso Dhlakama.
Mr Dhlakama has been in hiding since the army raided his base last month.
This led Renamo to pull out of a 1992 deal ending a civil war which had raged since 1976.
Renamo is thought to retain about 1,000 fighters and also has 51 MPs.
The rejection of the talks came as campaigning began for local elections later this month.
Renamo is boycotting, demanding electoral reforms.