Malawi ex-minister Ralph Kasambara arrested over shooting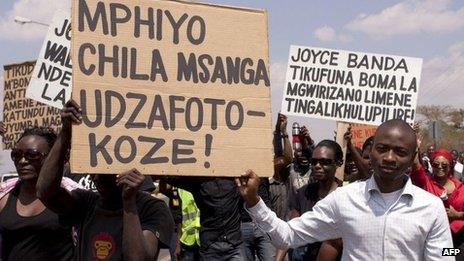 Malawi's former Justice Minister Ralph Kasambara has been arrested over the September shooting of an official anti-corruption crusader, police said.
President Joyce Banda said the shooting of Paul Mphwiyo was aimed as silencing the fight against high levels of fraud.
Following the shooting, the Malawian media printed allegations of widespread government corruption.
Western donors, who have urging Mrs Banda to tackle corruption, have since frozen all aid to Malawi.
Malawi, with a population of about 15 million people, is one of the poorest states in Africa and has been heavily dependent on financial aid from the European Union (EU) and other foreign powers.
"We have gathered evidence which suggests that Mr Kasambara was involved in the shooting,'' police spokesman Kelvin Maigwa told the BBC.
Mr Kasambara was fired from the cabinet last month.
A lawyer by profession, he was appointed justice minister when Mrs Banda came to power following the death of President Bingu wa Mutharika in April 2012.
After becoming president, Mrs Banda sought to take immediate steps to restore relations with donors and the International Monetary Fund, including a devaluation of the currency by a third.
According to the Reuters news agency, foreign donors account for about 40% of Malawi's budget.
Norway suspended its budget aid last month and other donors followed suit on Thursday, demanding the government investigate the recent allegations of embezzlement.
Finance Minister Maxwell Mkwezalamba said the decision to withhold budget assistance would have a "massive impact" on Malawians, Reuters reports.
Mr Mphwiyo, who was the budget director in the finance ministry, was flown to South Africa for medical treatment after he was shot on 13 September.
He is now out of hospital, but has not returned home.
Related Internet Links
The BBC is not responsible for the content of external sites.