Liberian leader's guard arrested over 'drug smuggling'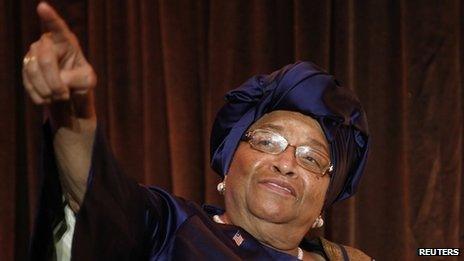 The head of the presidential motorcade in Liberia has been arrested for allegedly smuggling drugs in an official vehicle, the Drug Enforcement Agency (DEA) has said.
Perry Dolo was arrested with 297kg (654lb) of marijuana after crossing over from Sierra Leone, it alleged.
The jeep used is "Escort 1", which normally leads President Ellen Johnson Sirleaf's convoy, the DEA said.
Mr Dolo had used the vehicle on his day off, it said.
He has not yet commented on the allegation.
Mr Dolo was arrested with a Liberian, a Guinean and a third person believed to be a member of the Sierra Leonean military, the DEA said.
DEA head Anthony Souh said the accused were being interrogated.
"They are still with me going through the process,'' he said.
"We want to speedily send them to court... because the case is too high. Using a presidential car? It's too big."
Security sources at the Bo-Waterside border crossing said Mr Dolo had been under surveillance for two weeks before he and the other three were apprehended at the weekend in the town of Tienne, about 20km (12 miles) inside Liberia and 120km west of the capital, Monrovia.
"He [Mr Dolo] was not on duty, but he used the official car,'' Mr Souh said.
The BBC's Jonathan Paye-Layleh in Monrovia says Liberia's DEA has in recent years stepped up efforts to curb marijuana farming in Liberia's countryside, but they often complain of a lack of resources.
According to the 2012 UN Office on Drugs and Crime report, 9% of Liberian high school students use the drug,
Liberia is recovering from a brutal civil war that ended about a decade ago.
Related Internet Links
The BBC is not responsible for the content of external sites.