Mozambique 'child smuggling' arrests at South Africa border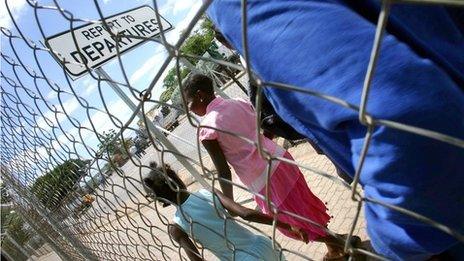 Mozambican police have rescued 27 children being trafficked to South Africa, a spokesman has said.
Seven people were arrested for attempting to smuggle the children, aged between one and seven years, across the border, the police said.
Parents often send their children to stay with relatives in South Africa during school holidays, the BBC's Jose Tembe in Mozambique says.
However, many of them end up in the hands of criminal networks, he says.
The children risk being forced into prostitution, child labour, illegal adoption or used in witchcraft, our reporter says.
'Passports too expensive'
A mother of one of the children denied she had criminal motives when she sent her child on the minibus with the group who were later arrested.
"I always took my child with me to Johannesburg because she was attached to my now-expired passport. This time I could not secure money to get a passport for my child," said the mother, who has not been named in the local media.
One of the arrested men said the children were going to South Africa to spend the festive season, and their parents had promised to pay him $50 (£31) each for taking them across the border.
However, police spokesman Emidio Mabunda said the police were confident that they were dealing with a child-trafficking case.
"We are talking about children who are not authorised to cross the border without being accompanied by a relative," he said.
"Even with a relative, the child must have a passport or must be attached to a passport of a parent."
Some of the children have been sent back to their families, while others are in the care of of the social welfare department, our reporter says.
A woman was among the seven alleged traffickers arrested at the Ressano Garcia border, police said.
South Africa is the wealthiest country in the region and many Mozambicans live and work there or visit for shopping and holidays.
Related Internet Links
The BBC is not responsible for the content of external sites.