Somalia's cyclone-hit Puntland declared a disaster area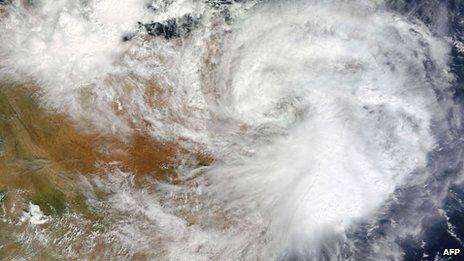 Somalia's government has declared the north-eastern region of Puntland hit by a tropical cyclone at the weekend a disaster area.
The number of people killed by the cyclone has risen from about 100 to 300, unconfirmed reports say.
Thousands of livestock had also died and hundreds of homes had been destroyed by the cyclone, known as 03A.
More floods were expected during the next 48 hours, Somalia's Prime Minister Abdi Farah Shirdon said.
Puntland is a semi-autonomous region within Somalia, where many people are poor.
'Entire villages destroyed'
The cyclone had swept through the Eyl, Beyla, Dangorayo and Hafun districts along the eastern coast and across to Alula at the tip of the Horn of Africa.
Declaring a disaster, Somalia's Interior Minister Abdikarim Hussein Guled said the central government pledged $1m (£628,000) to help communities devastated by the cyclone.
The government "shared the pain" of communities, Mr Shirdon said.
Nearly 300 people are feared dead in the cyclone, the pro-Puntland government news site, Garoweonline, reports.
On Monday, Puntland's government said up to 100 people had been killed.
"Preliminary information also indicates that homes, buildings, boats and entire villages have been destroyed and over 100,000 livestock lost, endangering the livelihoods of tens of thousands of local people," it said, in a statement.
Relief efforts have been hampered after roads and air strips were washed away.
Electricity has also been disrupted and mobile phone masts destroyed, making communication extremely difficult, the Puntland government said.
Trucks loaded with 60 tonnes of food, clean water and blankets headed are stuck in Puntland's Nugal region because flash floods have made many areas inaccessible, Garoweonline reports.
Puntland's President Abdirahman Farole called on the international community to help, and said helicopters should be used to air-drop relief aid.
"I have buried 10 members of my family, the icy storm and rain killed more than 100 people here," a resident of Eyl, Hussein Abdullahi, told the Reuters news agency on Monday.
"I have never witnessed such fatal cold. Some people were blown away and others died after their houses collapsed on them."