Rwanda ex-presidential guard Mutabazi charged with terror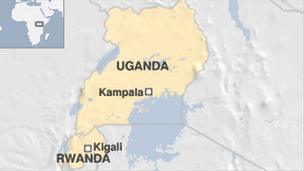 A former presidential guard in Rwanda who was extradited from Uganda has been charged with terrorism.
Joel Mutabazi appeared in a military court in the capital, Kigali, with 14 co-accused, including four women.
He fled Rwanda in 2011 claiming his life was in danger.
Last week, the UN refugee agency said Uganda had acted against international refugee law by sending Mr Mutabazi back to Rwanda and it was concerned about his safety.
He is thought to have been transferred to Rwanda last month.
Mr Mutabazi told the court in Kigali he was not ready to be tried because he did not have legal representation.
He did not have money to hire a lawyer either, he said.
It is not clear when Uganda extradited him, but the UN refugee agency (UNHCR) has condemned its decision as a "clear violation of the asylum principle", reports the BBC's Prudent Nsengiyumva from Kigali.
The judge read six charges against Mr Mutabazi, including terrorism, forming an armed group to threaten state security, using fraudulent documents and spreading rumours inciting people to revolt against the government, our correspondent says.
Mr Mutabazi was once a member of President Paul Kagame's security team and is one of about eight Rwandan ex-servicemen who defected to Uganda because of safety concerns.
Some of the other accused include members of the FDLR militia group, which was involved in the 1994 genocide that killed some 800,00 people in Rwanda.
The four women were civilians, our reporter says.
None of the accused was asked to plead and the case was adjourned.
In August, Ugandan police spokesman Patrick Onyango said Mr Mutabazi had been arrested at the request of the Interpol office in Rwanda.
He was arrested while living in a safe house provided by the UNHCR.
After the UNHCR protested, he was transferred into the custody of Ugandan President Yoweri Museveni's office.
Related Internet Links
The BBC is not responsible for the content of external sites.