Boko Haram: Is terror designation a badge of honour?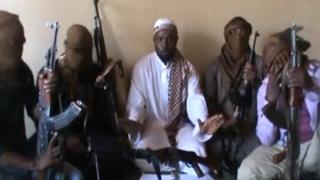 US moves to classify the Islamist group Boko Haram as a foreign terrorist organisation may encourage the militants to justify their new status by seeking international terror links in a region that is home to an al-Qaeda franchise.
Such an escalation will expand the threat of the group, drawing in the deployment of US surveillance drones and introducing a dramatic twist to the conflict in the major oil producer.
Branding the hitherto domestic terror group a foreign terrorist organisation has given Washington the legitimacy to clearly view the threat of Boko Haram as part of wider Islamist militancy in Sahel region.
Boko Haram at a glance
Founded in 2002
Initially focused on opposing Western education - Boko Haram means "Western education is forbidden" in the Hausa language
Launched military operations in 2009 to create Islamic state
Thousands killed, mostly in north-eastern Nigeria - also attacked police and UN headquarters in capital, Abuja
Some three million people affected
Declared terrorist group by US in 2013
Profile: Boko Haram leader Abubakar Shekau
Why Nigeria has not defeated Boko Haram
Northern Nigeria - the main base of Boko Haram - is the southern edge of a hostile desert region that covers Niger, Mali, Mauritania, Algeria and Libya, providing the perfect cover for militant groups which sprouted from local grievances to later assume an international jihadi outlook.
This region - with weak border controls - is the new focus of the US and French counter-terrorism campaign.
Nnamdi Obasi, a Nigeria analyst with the International Crisis Group (ICG) says the move to classify Boko Haram as a foreign terror group will encourage it to aggressively target US interests in Nigeria.
"It could also further radicalise the movement and push it to strengthen international linkages with other Islamist groups," Mr Obasi told the BBC.
Ansaru, an off-shoot of Boko Haram, was also designated by the US at the same time. Little has been heard about this group since it claimed to have killed some foreign hostages in northern Nigeria earlier this year.
Allegations that Boko Haram has links with al-Qaeda in the Lands of Islamic Maghreb (AQIM) and Somalia's al-Shabab Islamists remain unproven, as Boko Haram continues to focus its brutal killings at home.
Unarmed drones
Martin Ewi, a researcher dealing with transnational threats and international crime at the South African-based Institute for Security Studies (ISS), says the move will add vigour to the pursuit of Boko Haram, particularly its assets and finances - if any - in US banks.
"The FTO [Foreign Terrorist Organization] list will help bring many aspects of the US pursuit of Boko Haram to the open and systematise certain activities," he told the BBC.
For a long time, Nigerians have been concerned that such a classification will draw in drones for surveillance and possibly missile attacks, which will present wider political challenges for this religiously divided US ally.
The US flies unarmed drones from an airfield in Niger's capital, Niamey, helping French forces and regional countries collect intelligence information on the movement of militants, some linked to AQIM.
While the US and Nigeria have said they do not expect US troops or drones to be deployed, such thinking will immediately change if Boko Haram cultivates provable links with al-Qaeda or other radical affiliates.
"It is believed that the US has already sent [surveillance] drones to Nigeria even back last year though not in an overt manner," ISS's Mr Ewi says.
Mr Obasi sees a similar issue.
"Some Nigerians are also concerned that it could embolden the US military to launch military operations in the country unilaterally, much like they've been doing in Pakistan," he says.
Such a possibility - even if threadbare - will provide the perfect fodder for Boko Haram and Ansaru to whip up an anti-government backlash and enlist support.
International pull
Such support can be easily turned into recruitment of new fighters that can be deployed beyond Nigeria.
Boko Haram has not said anything in response to the US move.
But going by the example of al-Shabab in Somalia - which was initially a home-grown rebel group before aligning itself with al-Qaeda and attracting foreign jihadists - the classification represents a new higher profile what will allow it to draw into its ranks international jihadists.
Most jihadists like to be part of a terror group that is stridently opposed to the US - which the terrorists see as an embodiment of Western values that they oppose.
In the short term, though, there is unlikely to be a dramatic change in the brutal operations of the group or its funding.
There is no evidence of Boko Haram fundraising in the West.
It has funded its violent campaign through local criminal activities.
Boko Haram's core leadership has always said that it was opposed to dialogue as a possibility favoured by some northerners for ending the insurgency.
"The prospect for peace talks had always been dim - this designation now probably dims it further," Mr Obasi says.
This is unlikely to worry the government, which wants to defeat Boko Haram militarily and is seeking a six-month extension to the state of emergency imposed on three north-eastern states in May.
"We salute the US government for partnering with the federal government to rout [sic] out terrorism," Justice Minister Mohammed Bello Adoke was quoted by Nigeria's Daily Trust as saying.
"This step will assist this nation to deal with these renegades."