LRA leader Joseph Kony 'in surrender talks' with CAR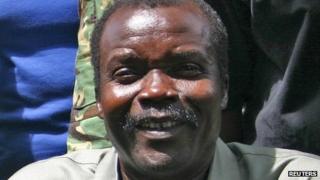 The government of the Central African Republic (CAR) has said it is in talks with Ugandan warlord Joseph Kony with the aim of his surrender.
A CAR government spokesman told the BBC that Kony was in the country but wanted his security to be guaranteed before giving himself up.
Kony, leader of the Lord's Resistance Army, is wanted by the International Criminal Court for alleged war crimes.
The US has offered up to $5m (£3.3m) for leads resulting in his arrest.
His rebellion began in northern Uganda more than 20 years ago and his fighters became notorious for abducting children to serve as sex slaves and fighters.
The LRA was forced out of Uganda in 2005 and since then has wreaked havoc in CAR, South Sudan and the Democratic Republic of Congo.
He was on the verge of signing a peace deal in 2008 but insisted that the ICC first drop its arrest warrant, which it refused to do.
Also on Wednesday, the African Union's special envoy on the LRA, Francisco Madeira, told the UN Security Council he had seen reports that Kony was suffering from a "serious, uncharacterized illness".
In April, the Ugandan army suspended a search for Kony in the CAR, blaming "hostility" from the government formed when rebel forces took power there.
Several thousand African troops, backed by 100 US special forces, have been hunting him and his fighters across the region.
Mr Madeira said the military pressure had kept Kony and the LRA "on the run".
Kony claims the LRA's mission is to install a government in Uganda based on the Biblical Ten Commandments.
But he is wanted by the International Criminal Court on charges of rape, mutilation and murder of civilians, as well as forcibly recruiting children to serve as soldiers and sex slaves.
His global notoriety increased when a US activist group called Invisible Children released a video, Kony 2012, which went viral on the internet and was viewed tens of millions of times across the world.
The highly emotive video profiled Kony and the history of the LRA, but Invisible Children came in for criticism from some for oversimplifying the conflict and for not spending enough of the money raised on the LRA's victims.