Babu Seya: Tanzania court upholds singer's life term for rape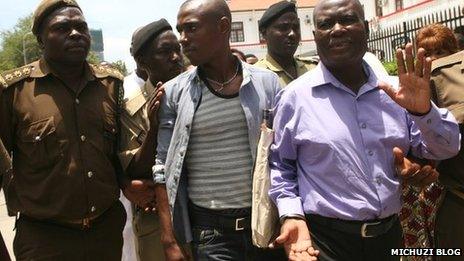 A court in Tanzania has dismissed an appeal by popular singer Nguza Viking, known as Babu Seya, and his son, sentenced to life in prison for rape.
Judges said there was no reason to doubt that the two had raped 10 primary school girls in 2003.
At their last appeal three years' ago, two of Viking's other sons, who had also been found guilty of the same charges in 2004, were acquitted.
The case has shocked Viking's many fans in the East African nation.
The rhumba musician, who is originally from neighbouring Democratic Republic of Congo, has lived in Tanzania for years and built up a loyal following.
The BBC's Ben Mwang'onda in Tanzania's main city of Dar es Salaam says both Viking and his son Johnson Nguza, also a musician known by the stage name Papii Kocha, appeared in court during their appeal.
They looked calm when the judges turned down their request to have the charges quashed, he says.
They had been convicted of raping 10 girls aged between six and eight years who were pupils at Mashujaa Primary School in the Kinondoni district of Dar es Salaam.
Their lawyer told the BBC that this had been the musicians' last hope of appeal.
He had hoped that the defence's point that key witnesses had not been called for questioning during the original trial would have persuaded the judges.
Our reporter says the musicians are likely to spend the rest of their lives in jail unless they are granted a presidential amnesty.
Related Internet Links
The BBC is not responsible for the content of external sites.