Nigeria President Goodluck Jonathan taken ill in London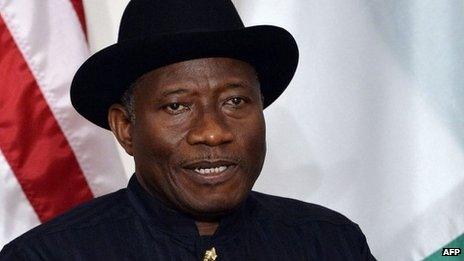 Nigerian President Goodluck Jonathan has been taken ill and given medical treatment while overseas, but his condition is not said to be serious.
The president was in London for a business meeting, but could not attend.
"The Presidency wishes to assure all Nigerians that President Jonathan's condition is nothing serious," his aide Reuben Abati said in a statement.
He said the medical attention sought by the 56-year-old president was "only precautionary".
Mr Jonathan has been president since 2010, when his predecessor died in office and he was promoted from vice-president.
In recent days he was forced to delay presenting the annual budget to the national assembly indefinitely due to disagreements between the executive and legislators.
Mr Jonathan is also facing serious divisions within his own party, as rival factions jockey for power ahead of the 2015 presidential poll.
He is also battling an Islamist uprising in the north of Nigeria which has killed thousands.