Kampala mayor Erias Lukwago reinstated by Ugandan court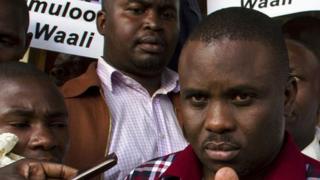 A Ugandan judge has ruled that Monday's ousting of Kampala mayor Erias Lukwago was illegal and ordered his reinstatement.
The judge said he had issued an injunction preventing a vote to impeach Mr Lukwago and so this should not have taken place.
Mr Lukwago is from the opposition Democratic Party (DP) and says his ousting is a government plot.
The government says it will appeal against the latest ruling.
Government spokesman Ofwono Opondo told the BBC that the judge had "connived" with Mr Lukwago's lawyers, saying a legal injunction could not have been issued before 0900, when the vote was taken.
The BBC's Catherine Byaruhanga in Kampala says it is not clear if Mr Lukwago will be allowed access to his office.
The 29 councillors who voted to oust him would not take the court ruling "lying down", Mr Opondo said.
The vote came after a tribunal had found him guilty of incompetence and abuse of office.
Following his ousting, his supporters clashed with police in Kampala.
After Thursday's court ruling, Mr Lukwago said: "It is a moment of jubilation, it is a moment of triumph... justice has prevailed."
Two weeks ago, a government-appointed tribunal ruled that Mr Lukwago had failed to convene meetings, had disobeyed administrative directives and had incited the public to withhold taxes.
Earlier, he described the tribunal, headed by a judge, as a kangaroo court and said President Yoweri Museveni was behind the move to oust him in order to open the way for his allies to take control of the city following their defeat in the 2011 election.