Central African Republic militia 'killed' children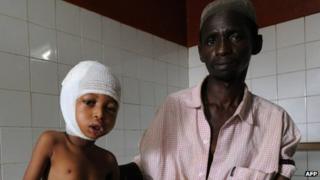 A Christian militia is suspected to have killed 12 people, including children, and wounded 30 others in an attack in the Central African Republic (CAR), officials say.
The attackers appeared to have targeted a mainly Muslim community north of the capital, Bangui, the officials said.
The UN Security Council is due to vote on peacekeeping operations in CAR.
It has been gripped by conflict since rebels seized power in March.
Ex-President Francois Bozize was ousted in a rebellion led by the Seleka group.
'Disembowelled'
Its leader, Michel Djotodia, installed himself as president after Mr Bozize went into exile.
Mr Djotodia is the first Muslim to rule the CAR, which has a majority Christian population.
Religious and ethnic attacks have led to warnings of genocide.
Hundreds of villages have been abandoned, with civilians hiding in the bush and pleading for outside intervention.
In Monday's violence, Christian militiamen known as "anti-balaka" appeared to have attacked herders from the Peuhl ethnic group, which is made up mainly of Muslims, said Amy Martin, the head of the UN Office for the Co-ordination of Humanitarian Affairs (Ocha) in Bangui, the Reuters news agency reports.
The government said the attack took place in Boali, about 95 km (60 miles) from the capital.
Youth opposed to Seleka, and backed by Bozize loyalists, carried out the attack, it said.
"Among the victims were children and a disembowelled pregnant woman. Some managed to escape and there are more than 10 wounded who have been transferred to Bangui," an unnamed military official is quoted by AFP news agency as saying.
Ten children were hospitalised with machete wounds, a health worker said, AFP reports.
The African Union (AU) has a 2,500-strong force in CAR, but it is battling to contain the conflict.
The force is expected to increase to 3,600 by the end of the month.
France is also increasing its military presence in its former colony, with plans to have about 1,000 troops supporting the AU force.
The UN Security Council will vote on a resolution on Thursday to give the AU force a formal mandate to "stabilise" the CAR and "protect civilians", France's UN ambassador Gerard Araud said.
"At this stage, it is difficult to know whether the African force, with the support of French forces, will be able to do the work," Mr Araud told reporters.
"If the African force does the work there will be no need for a peacekeeping mission," he added.