South Africa's grief drowned out by interpreter row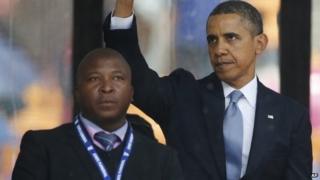 Thamsanqa Jantjie, the man vilified around the world as a fake sign language interpreter, has said he feared for the safety of those around him at the Nelson Mandela memorial service on Tuesday, where he says he suffered a schizophrenic episode.
However, he went on to deny that his presence just behind US President Barack Obama while signing was a security risk.
"I had a breakdown when I see angels coming from sky to the crowd, coming on stage. And I started knowing that I am not well," he said.
"When the attacks happen, you never know what will happen."
He said he had "never harmed anyone", and that his condition was generally under control thanks to the medical treatment he is receiving.
Local media report that he has been accused of threatening behaviour by officials in the courts, where he has previously worked as an interpreter for deaf people.
One woman has reportedly said she had lodged a formal complaint that he had held her hostage with a brick.
Passing the buck
South African security expert Nic Murphy described the row as an "embarrassment".
"I cannot believe that he got past the accreditation process for an event involving world leaders," he said, adding that in future, visiting dignitaries might insist on carrying out their own security checks, or bringing their own officials.
Another security consultant, Kyle Condon, said it was a "bungle".
A game of pass-the-buck is now under way between different government departments about who was responsible for the security screening.
"I'm not embarrassed at all - he was not the main interpreter," said deputy Disability Minister Hendrietta Bogopane-Zulu.
She said she had no concern about hiring someone with schizophrenia for such an event, saying the health profile of any service providers - from journalists to cleaners - was never investigated before they were given accreditation.
However, she did admit that employing him was a mistake, that he was not a qualified interpreter and that the company through which he was recruited, SA Interpreters, had now "vanished into thin air".
She also said she was "grateful" that the company which had been providing a "sub-standard service" for many years had now been exposed.
Both she and the ANC, which has previously hired Mr Jantjie, have denied receiving any complaints about his past behaviour.
But despite Ms Bogopane-Zulu's protestations, after this episode, surely the screening process for future high-profile events staged in South Africa will be tightened.
Mourning overshadowed
Mr Jantjie insists that he has no regrets about his performance, saying he should be recognised as a hero for carrying on despite his attack, as well as being there to help disabled people.
But several representatives of South Africa deaf people have strongly condemned him.
Braam Jordaan, a South African from the World Federation of the Deaf, told the BBC's Newsday programme that Mr Jantjie had been making up his own signs.
For many South Africans, the real shame is that what was supposed to have been a sombre week, in which the world joined in grief at the death of Nelson Mandela, is in danger of becoming overshadowed by other issues.
This interpreter gaffe comes a day after the front pages of many national newspapers concentrated on the booing of President Jacob Zuma at the same ceremony.
Tens of thousands of people from all walks of life again stoically waited for hours on Thursday under a mixture of searing sun and the odd torrential downpour to pay their respects to their national hero.
They and their compatriots will be hoping that Sunday's funeral in Mr Mandela's remote home village of Qunu passes off more smoothly.