South Africa's 'Dr Death' Basson found guilty of misconduct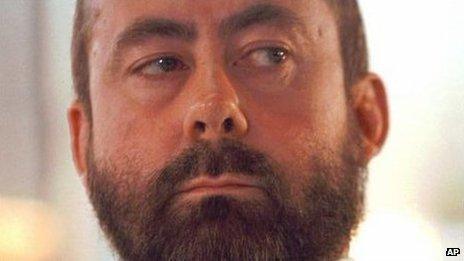 The man dubbed as South Africa's "Dr Death", Wouter Basson, has been convicted of unprofessional conduct by the country's health council.
He had breached medical ethics when he was involved in the former apartheid government's chemical and biological warfare programme, it ruled.
He was accused of supplying and producing kidnapping drugs, suicide pills and arming mortars with teargas.
South Africa became a democracy in 1994, ending white minority rule.
Thousands of people were killed during the fight to end apartheid rule.
'No doctor-patient relationship'
The media dubbed him "Dr Death" when details of the secret programme emerged after minority rule ended; he was accused of producing illegal drugs and creating viruses that would only attack black people.
But Basson escaped a criminal conviction in 2002, arguing that he had acted on the orders of the former South African Defence Force (SADF) when he was involved in the chemical and biological warfare programme.
He is now a cardiologist in Cape Town.
The Health Professions Council of South Africa (HPCSA) investigated whether he should be struck off the doctor's roll for providing soldiers with cyanide capsules.
"The breaches of medical ethics amount to unprofessional conduct," HPCSA chairman Jannie Hugo ruled, AFP news agency reports.
Basson's lawyers had argued that he should be acquitted because the charges were not related to a doctor-patient relationship, but in his capacity as a soldier in the SADF, reports South Africa's public broadcaster, SABC.
Basson is alleged to have provided security forces cyanide to help them commit suicide, "weaponising" thousands of 120mm mortar bombs with teargas, and providing drugs that would disorientate prisoners.
The HPCSA, which is a statutory body which maintains ethical standards in the medical profession, is due to pass sentence on Basson in February.
He had refused to apply for amnesty at the Truth and Reconciliation Commission (TRC), which Nelson Mandela set up after he became president to draw a line under the conflict waged during apartheid.
Mr Mandela, who became the country's first black president, died on 5 December at the age of 95.
He was widely praised for promoting reconciliation between black and white people.
Related Internet Links
The BBC is not responsible for the content of external sites.