South Sudan army set to move on rebel-held town of Bor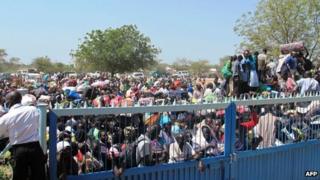 South Sudanese troops are preparing to enter the rebel-held town of Bor, President Salva Kiir has said.
Mr Kiir told parliament the army was "ready to move", adding that the counter-attack had been delayed to allow US citizens to be airlifted out.
Bor, in the restive state of Jonglei, fell to rebels on Wednesday.
A week of ethnic violence has raised fears of civil war. UN humanitarian staff have described bloody scenes, including summary executions.
Earlier the South Sudanese army confirmed that Bentiu, the capital of oil-rich Unity State, had been taken by fighters supporting former vice-president Riek Machar.
President Kiir, a member of the majority Dinka ethnic group, sacked Mr Machar, who is from the Nuer community, in July.
The president has accused Mr Machar of attempting a coup, which he denies.
Mr Machar says the president has been carrying out a purge of his rivals.
Summary execution
A spokesman for the United Nations in the capital, Juba, told the BBC that UN compounds nationwide were sheltering more than 40,000 civilians.
The United Nations Mission in South Sudan has said it will not abandon the civilians.
The spokesman, Joseph Contreas, said the UN was "doing everything possible to remain in touch with key leaders and seek a peaceful way out of the conflict".
Addressing parliament, President Kiir repeated his offer to hold talks with Mr Machar, saying that a delegation of East African foreign ministers had offered to mediate.
However, he said that Mr Machar would have "to come to the table without any precondition".
UN humanitarian co-ordinator Toby Lanzer, who was in Bor over the weekend, told the BBC he had witnessed "some of the most horrible things that one can imagine".
"People who were being lined up and executed in a summary fashion. This is done by people who are simply out of control," Mr Lanzer told Newshour.
He said an estimated 17,000 people had sought protection in the UN peacekeeping base in Bor.
Aid workers are under intense pressure, with humanitarian compounds looted in several locations.
"We are looking at a massive increase in need and I am engaging all parties to ensure that civilians are protected and that aid workers are able to access people who need our help," Mr Lanzer said in a statement.
"Humanitarians will continue to stand by the people of South Sudan at this extremely difficult time and provide impartial and neutral aid to save lives and alleviate suffering."
Over the weekend, the US deployed extra troops to help evacuate Americans and other foreigners.
In Bor, three US military aircraft were fired upon on Saturday, forcing the evacuation to be aborted. On Sunday, the US re-entered using civilian US and UN helicopters.
The UK is sending what is expected to be a final plane on Monday to help Britons flee South Sudan.
Sudan suffered a 22-year civil war that left more than one million people dead before the South became independent in 2011.