South Sudan rebel Taban Deng eyes full reconciliation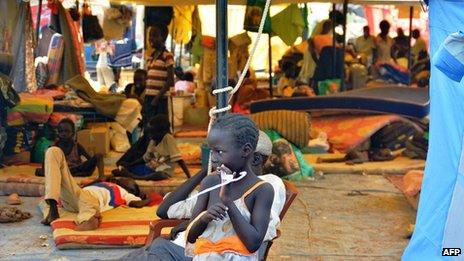 Rebels in South Sudan are confident that "full reconciliation" can be achieved with the government, their chief negotiator has said.
Taban Deng's comments came as the two sides hold ceasefire talks in Ethiopia's capital, Addis Ababa.
Information Minister Michel Makuel said the government was committed to ending the conflict.
About 1,000 people have been killed since violence erupted in South Sudan on 15 December.
Nearly 200,000 people have been displaced in the fighting, which has seen ethnic violence between the Dinka and Nuer communities.
President Salva Kiir is a Dinka and rebel leader Riek Machar is a Nuer, although each has prominent allies within the other's ethnic group.
Direct talks between the two sides began in Addis Ababa on Sunday, after days of wrangling over procedural issues and the agenda.
On Tuesday, chief mediators Seyoum Mesfin and Lazurus Sumbeiywo flew to South Sudan's capital, Juba, for talks with Mr Kiir, reports BBC Ethiopia correspondent Emmanuel Inguza.
A major sticking point is the demand by Mr Machar - Mr Kiir's former deputy in government - for the release of 12 people detained over an alleged coup plot.
Mr Kiir has repeatedly ruled out their release, saying they will face justice.
Mr Machar denies there was a coup plot, saying Mr Kiir's forces unleashed the violence as a way of consolidating his grip on power ahead of elections due in 2015.
Both Mr Kiir and Mr Machar belong to the governing Sudan People's Liberation Movement (SPLM), which led the decades-long conflict against Sudan, leading to the South's independence in 2011.
"We are from the same family. We are all from the SPLM. They are leading the government. We are in the SPLM," said Mr Deng.
"We have disagreed and we believe that we can achieve a full reconciliation that will mean a meaningful peace to both parties and to our people in the Republic of South Sudan."
His deputy is Mabior Garang, son of veteran southern leader John Garang, who died in 2005.
"We all know each other... and care about our people," he said.
The government representative expressed a similar view.
"We are committed to peace, and from here I hope that we will be in a position to stop this death, which is happening in our country," Mr Makuel said.
Both sides have been under intense diplomatic pressure to end the fighting in South Sudan, the world's newest state.
On Monday, China's Foreign Minister Wang Yi met the warring parties in Addis Ababa, urging them to negotiate a ceasefire.
China is a major investor in South Sudan's oil industry.
Sudan's President Omar al-Bashir also held talks on Monday with Mr Kiir.
The two leaders were "in consultations about the deployment of a mixed force to protect the oilfields in the South", Sudan's Foreign Minister Ali Karti said.
When it seceded from Sudan, the South ended up with most of the oilfields.
But it has to export the oil using pipelines through ports in Sudan's territory. The government in Khartoum now fears its oil revenue will be disrupted by the fighting in the South.
Also on Monday, the South Sudanese government announced it had agreed to a cessation of hostilities with a rebel leader it has been fighting for nearly two years, David Yau Yau.
It had been feared that Mr Yau Yau, who has troops in Jonglei state, would join the new rebellion.
Meanwhile, heavy fighting continued between Mr Kiir's and Mr Machar's forces near Bor, the capital of Jonglei state.
Army spokesman Philip Aguer said it was only a "matter of time" before Bor was recaptured from rebels.
In another development, the United Nations said militiamen had taken control of a UN food warehouse in Bentiu and that UN vehicles had been commandeered in the rebel-held town of Bor.
"This makes it very, very difficult for us to continue our work - the sole purpose of which is reaching civilians in need," said Toby Lanzer, the UN's humanitarian co-ordinator in South Sudan.
Related Internet Links
The BBC is not responsible for the content of external sites.