DR Congo's Lubumbashi hit by fighting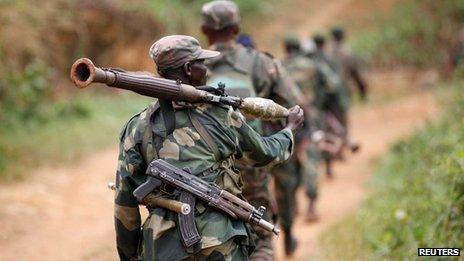 At least 26 people have been killed in an eight-hour battle between government and rebel forces in the Democratic Republic of Congo's second city Lubumbashi, police say.
The rebels were beaten back on Tuesday morning after heavy fighting overnight, police said.
The city of more than a million people was deserted, police added.
The assault was launched by the Mai Mai Kata Katanga, a secessionist group in the region, police said.
It is fighting for the independence of Katanga, the richest province in DR Congo.
The group is led by Gedeon Kyungu Mutanga, who was freed during an attack by gunmen on Lubumbashi's prison in September 2011.
The largest cobalt deposits in the world are in Katanga - and the province is the second biggest African provider of copper.
Lubumbashi police inspector-general Patrick Sadiki told the BBC that the 26 dead included government soldiers and rebel fighters.
Businesses were shut and most people had stayed indoors on Tuesday, he said.
Government troops were patrolling Lubumbashi after pushing the rebels some 25km (15 miles) out of the city, Mr Sadiki added.
Last March, five people were killed when suspected Mai Mai militia entered Lubumbashi.
In February 2011, a security guard was killed during an attack on the city's airport.
The attackers left behind the flag of an old Katangan secessionist movement known as the Tigers.