Japan PM Shinzo Abe to pledge $14bn to Africa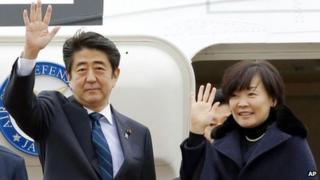 Japan's Prime Minister Shinzo Abe is expected to pledge more than $14bn (£8.5bn) in aid and trade deals during his week-long visit to Africa.
He is also hoping to secure energy resources and increase exports.
Mr Abe's first stop is Oman, before he visits three fast-growing economies - Ethiopia, Ivory Coast and Mozambique.
BBC Africa Business Report's Lerato Mbele says the visit is seen as a step by Japan to compete with China, in the new scramble for African resources.
In Ethiopia, he is to announce plans for a geo-thermal plant, which reinforces the country's growing renewable energy profile.
Mozambique recently made huge gas and coal discoveries and Japan is one of many investors scouting deals there.
Although Ivory Coast is recovering after the end of a long period of conflict and political instability, it provides a gateway into French-speaking Africa, a region that's still relatively untapped by most foreign players.
Our reporter says the backdrop to this visit, is of course China, which has become the largest investor in Africa, with five times as much trade with the continent as the Japanese.
In the past week, China's foreign minister has also been visiting the continent to reinforce diplomatic and economic ties.
But one of Mr Abe's senior officials, Hiroshigo Seko, sought to downplay the rivalry in an interview with the AP news agency
"Wherever he goes, Prime Minister Abe is asked if he is there to compete against China, but that's not our intention at all, as far as the African nations are concerned, they are important regardless of China," he said.
Last year, Mr Abe hosted a three-day conference on African development, at which he pledged $32bn (£21bn) in aid, including money to tackle militant Islamists.
At the time, he said that African countries would be at the centre of global economic growth in the coming years and so Japan should increase its economic ties to the continent.