Rwanda's President Paul Kagame warns traitors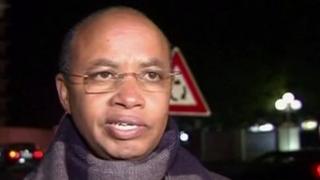 Rwanda President Paul Kagame has warned that those who betray the country will face "consequences".
He was speaking less than two weeks after the body of former intelligence chief Patrick Karegeya was found, apparently murdered, in South Africa.
Mr Karegeya had fallen out with the Rwandan leadership and set up an opposition party.
His allies said he had been killed by government agents - a charge denied by the high commissioner to South Africa.
Without mentioning any names, Mr Kagame told a national prayer breakfast meeting: "You cannot betray Rwanda and get away with it. There are consequences for betraying your country."
"I cannot be apologetic about that if you know the grenades that have been thrown on our streets killing Rwandan children," he said.
Mr Karegeya had been convicted in absentia of threatening state security and promoting ethnic divisions, in connection with a series of grenade attacks in the capital, Kigali.
"Anyone who betrays our cause or wishes our people ill will fall victim. What remains to be seen is how you fall victim," Mr Kagame said.
South African police say Mr Karegeya, 53, might have been strangled. A rope and bloodied towel were found in the safe of the hotel room where his body was discovered, they said.
Mr Karegeya's co-founder of the Rwanda National Congress, Lt Gen Kayumba Nyamwasa, has survived two assassination attempts, also in South Africa.
Both men were part of Mr Kagame's rebel forces which came to power in 1994, ending the genocide of their fellow ethnic Tutsis.
Rwandan dissidents in several Western countries including the UK and US say local security agents have warned them of plots to kill them.
The Rwandan government has denied trying to kill its opponents.
Mr Kagame has been accused of not tolerating opposition.
He maintains that Rwanda needs a strong government to prevent a return to ethnic conflict.