Central African Republic leader says chaos is over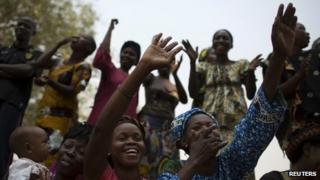 Relative calm has returned to the streets of the Central African Republic (CAR) capital Bangui after weeks of sectarian clashes, with banks, offices and markets re-opening.
The country's interim leader said the days of looting and revenge attacks were over.
The city has been riven by sectarian clashes in recent months.
About 20% of the 4.6 million population are said to have fled their homes, amid warnings of a humanitarian catastrophe.
The BBC's Piers Schofield in Bangui says people now feel safe enough to leave their homes across the city.
In recent weeks, there has always been at least one district - whether Muslim or Christian - where violence has meant people stayed at home, he says.
The police have also returned to the streets, while some local residents have said the city is the busiest it has been for a year.
Our correspondent says it feels like a turning point, following the rebel leader's resignation last Friday.
Interim leader and speaker speaker of the provisional parliament Alexandre-Ferdinand Nguendet said: "The chaos is over, the pillaging is over, the revenge attacks are over."
Intense pressure
Following months of fighting, Michel Djotodia seized power in March 2013 to become the country's first Muslim leader.
He disbanded his Seleka rebels but they continued to attack Christian civilians around the country, prompting the formation of vigilante groups, which targeted Muslims.
Mr Djotodia stepped down under intense pressure from CAR's neighbours.
The transitional national council now has two weeks to choose a new president.
In another sign of a return to business as usual, hundreds of people lined up to re-enlist in the army, following an appeal from the chief of staff.
Many of them had either deserted after the rebel takeover or left to to join the vigilante groups.
Fighting first eased on Sunday after rival militiamen laid down their arms in a truce brokered by the French military.
However, our correspondent warns that tension remains and the mood could quickly turn.
The BBC's Paul Wood has spoken to a man who confessed to eating the leg of a Muslim man killed by a Christian mob.
Ouandja "Mad Dog" Magloire said he was acting out of revenge after his pregnant wife, sister-in-law and her baby had been killed by Muslims.
However, this incident happened last week, before Mr Djotodia stood down and seems to be an isolated case.
CAR has huge deposits of gold, diamonds and other minerals but has seen a succession of coups and rebellions since independence from France in 1960, leaving most of its people living in poverty.