France 'underestimated' Central African Republic hatred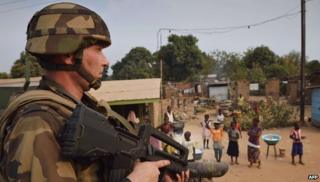 France underestimated the level of hatred between Christian and Muslim communities in the conflict-riven Central African Republic, its ambassador to the UN has said.
Gerard Araud told a UN meeting on Wednesday that African Union and French forces were confronting a "nearly impossible" situation.
They were between "two communities who want to kill each other", he said.
Mr Araud said that calls to end the fighting were being ignored.
France, the former colonial power, has deployed 1,600 troops to try to restore peace, along with an African Union force of some 5,000.
"We have to think in terms of tactics: What to do, in very practical terms, to be effective to prevent people from killing each other when they desperately want to kill each other," Mr Araud told an event organised to mark the 20th anniversary of the Rwandan genocide.
"We knew that there was some inter-sectarian violence, but we didn't forecast such deep ingrained hatred.
"We maybe need to work with psychologists or ethnologists on how did it appear, and now, how to cool down the situation."
Meanwhile, Rwanda has said it is sending about 800 peacekeepers to CAR.
'Mega-crisis'
More than 1,000 people have died in sectarian violence, which erupted when Seleka rebels seized power in March last year, installing Michel Djotodia as the country's first Muslim leader.
Although he disbanded his Seleka, they continued to attack Christian civilians, prompting the formation of vigilante groups, which have targeted Muslims.
Mr Djotodia stepped down last Friday under intense pressure from CAR's neighbours. A special session of parliament has convened to elect a new interim leader for the landlocked country of 4.6 million people.
Correspondents say that the violence has prompted concern that what happened in Rwanda - where 800,000 people were hacked, shot or clubbed to death in 100 days in 1994 - might be repeated.
The UN warned earlier this week that the Central African Republic was in a "mega-crisis" and that many in the population were living in fear because of religious and ethnic attacks.
Speaking to the BBC in the capital, Bangui, John Ging of the UN Office for the Co-ordination of Humanitarian Affairs (OCHA) said that there was concern that matters could worsen further.
Mr Ging said that "massive displacement" in the CAR had meant that almost a million people - 20% of the population - had left their homes throughout the country.
He called for a huge international effort to tackle the situation.