Kenya probes 'light bulb' blast at Nairobi airport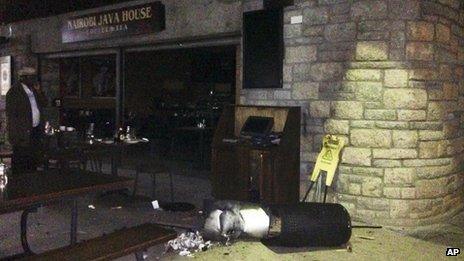 Kenyan police are investigating a small blast near a cafe at the international airport in Nairobi they initially said was caused by a "loose light bulb".
Officers are also trying to establish whether the discovery of a dead man in a bullet-riddled car in the capital is connected to Thursday night's incident.
The airport explosion damaged a metal rubbish bin and the ceiling.
Kenya has suffered several attacks by Islamist militants, including one at a Nairobi shopping centre last year.
Somalia's al-Shabab group was behind the four-day siege, in which at least 67 people died.
A month earlier, the arrivals terminal at Nairobi's Jomo Kenyatta International Airport was gutted by fire.
Investigators said the fire was caused by an electrical fault, not a terrorist attack.
Witnesses say the blast on Thursday evening outside the Nairobi Java House cafe in the international departures terminal caused panic.
Reports on social media said there was a loud explosion and lots of smoke.
But Kenyan police chief David Kimaiyo said on Thursday: "Some papers caught fire after a loose light bulb fell into a dustbin that caused panic.
"When the loose bulb fell down it burst making an explosive sound."
Later, the police found the car with the dead body and were checking CCTV footage to see if was the same vehicle that shot through a security barrier at the airport on Thursday, Kenya's Daily Nation reports.
The car was found in a residential area off the main road to the airport.
Witnesses told the police that two men left the car and escaped in a motorcycle.
A high-ranking Kenyan security official told the Associated Press news agency on Friday that an improvised explosive device was responsible for the blast.
Kenya's Standard newspaper reports that witnesses at the airport said the explosion was caused by abandoned luggage left near a dustbin.
Related Internet Links
The BBC is not responsible for the content of external sites.