South Africa hostage Korkie's supporters seek Yemen ransom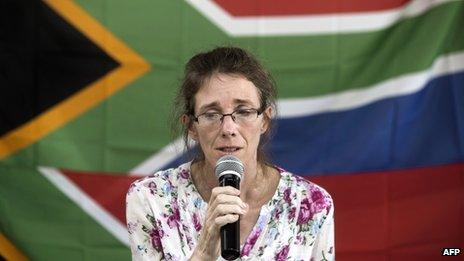 Supporters of South African teacher Pierre Korkie held hostage in Yemen have launched a campaign to raise the $3m (£1.8m) ransom his al-Qaeda kidnappers are demanding.
The kidnappers had threatened to kill him on Friday unless the ransom was paid, but extended their deadline.
Mr Korkie, 56, was abducted with his wife Yolande in May last year in Yemen's second city, Taiz.
She was freed on 10 January without ransom and returned to South Africa.
"This situation has prompted local businessmen and friends of the Korkies to commence a fundraising campaign for Pierre's release," his family said in a statement.
"Although she [Yolande Korkie] and the children are confident that Pierre will be released, the situation is still very uncertain and stressful for them," the statement added.
The couple had lived in Yemen for four years - where Mrs Korkie, 43, did relief work in hospitals - along with their two teenage children who returned to South Africa when their parents were seized.
At the time, security officials said the couple were seized outside their hotel by gunmen loyal to a local chief, over a land dispute with the authorities.
South Africa's deputy Foreign Minister Ebrahim Ebrahim went to Yemen to meet government officials to discuss Mr Korkie's release and is not involved in any fundraising, his department told the BBC.
Asked if the officials had received any proof of life since last week's missed ransom deadline, the spokesman said: "It is against South Africa's policy to pay ransoms. We are using diplomatic means to resolve the solution. We are not even talking about deadlines for ransoms."
Although kidnappings of foreigners in Yemen are frequent, Taiz - some 270km (173 miles) south-west of the capital Sanaa - has been relatively unaffected.
Hundreds of people have been abducted in Yemen in the past 15 years, nearly all of whom have been freed unharmed.
Yemen had experienced nearly a year of unrest before President Ali Abdullah Saleh agreed to step down, at the end of 2011, after 33 years in power.
The unrest has enabled militant groups linked to al-Qaeda to gain footholds in provinces in the south of the country.