Senegal frees Russian ship caught for 'illegal fishing'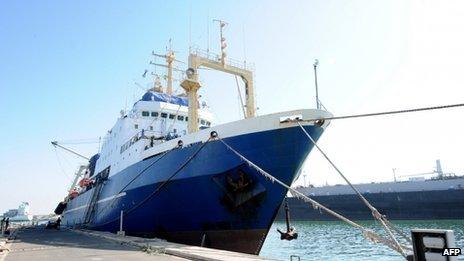 Senegal has freed a Russian ship after its owner paid a $1.2m (£720,000) fine for fishing illegally in its waters, a government minister has said.
Haidar El-Alia said Senegal had shown that it would not allow the "looting of our seas" by "pirates".
Russia had condemned the "aggressive conduct of Senegalese troops" when the ship was seized on 5 January.
West African governments are battling to curb illegal fishing, which is threatening fishing stocks.
Mr El-Alia, the Fisheries Minister, told BBC Afrique that local people were dependent on fish for food and their livelihood.
The government would not tolerate foreign-owned firms making profits by fishing illegally in Senegalese waters, he added.
They turned their catches into "fishmeal to feed animals in their countries", Mr El-Alia said.
Sixty-two Russians and 20 nationals from Guinea-Bissau were detained when the Senegalese navy raided the ship, Oleg Naydenov.
Mr El-Alia denied the arrests had led to diplomatic tensions with the Russian government.
"This is not about the Russian state. It's true it's a Russian boat but this was a private owner and we'd have done the same thing if it was a Chinese, French or Spanish ship," he said.
Related Internet Links
The BBC is not responsible for the content of external sites.