Too much too soon for South Africa's opposition?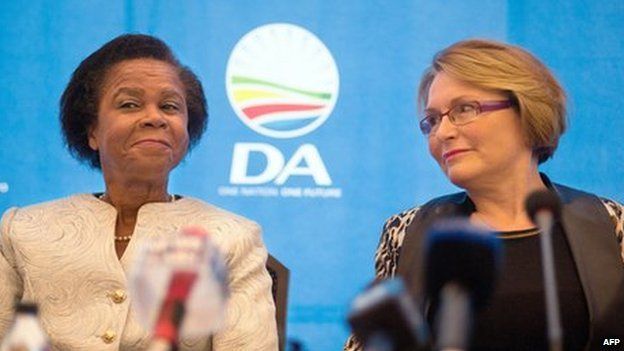 "Impatience" is the word that springs to mind here in South Africa following the sudden announcement that the main opposition party is parachuting in a prominent black woman as its new presidential candidate.
For years the Democratic Alliance (DA) has been incrementally building up its support base and credibility among black voters.
If you go to any poor township you will see black DA councillors or candidates challenging the governing African National Congress (ANC) on a range of issues.
But after 20 years of democracy, the ANC remains a formidable political beast, and the DA has struggled to shake off a perception - eagerly endorsed by the ANC - that its real agenda is to protect the interests of the relatively wealthy white minority here.
And so, in recent years, the DA has made no secret of its desire to headhunt a prominent black figure - either from within the ANC, or with rock-solid liberation credentials - to lead the party and transform it into South Africa's government-in-waiting.
Before we move onto the DA's chosen candidate, who would be elected president by MPs if the party won the majority in parliament in April's elections, spare a quick thought for the woman who is stepping aside for her.
Helen Zille's move may be shrewd; it may even be monumentally cynical.
But how many politicians can you think of who have willingly surrendered control of their own party?
It is a display of selflessness and political generosity with precious few parallels.
Still… was it a sensible move, or a sensible choice?
Let us brush aside the fact that it was clumsily handled, and - as happens in any situation when an outsider is dropped in - will bruise some egos and irritate many more people within the DA and beyond in the run up to this year's elections.
The woman Ms Zille has poached is Mamphela Ramphele, who had turned down previous offers by the DA and established her own party, Agang.
She is an impressive figure in many ways - an academic, a businesswoman, and the former partner of the iconic Black Consciousness leader Steve Biko.
But let me offer three reasons why this appointment may not be the political earthquake the DA is hoping.
First of all, as I mentioned at the start, it smacks of impatience.
Bruising political culture
Instead of waiting for some of its own impressive black politicians to rise to the top, the DA has explicitly played the race card by hiring in someone from another - struggling - party, not because she is obviously more capable than Ms Zille, but because she is black.
The DA's political rivals have never needed an excuse to play the race card themselves, and they are now doing so with gusto and, no doubt, with results.
Secondly, while Ms Ramphele is a highly articulate and thoughtful person, she does not strike me as the right fit for South Africa's bruising political culture.
She would make, I suspect, a terrific prime minister in Botswana or Sweden.
But as her own attempt to lead Agang has shown, she is not someone who can rally the masses.
In this she resembles the ANC's Cyril Ramaphosa - another wealthy, brilliant figure beloved of the middle classes - rather than the Julius Malemas of this world, or even President Jacob Zuma, who may be badly tainted by corruption scandals, but who can still swing more rural voters with a rousing song than Ms Ramphele ever could.
And thirdly - as always seems to be the case here - the timing does not feel right.
The ANC's critics always talk about making the big breakthrough at the next election, rather than the one they are fighting now - and that is true again this year.
Besides, the party of Nelson Mandela may be losing support and bogged down by corruption and incompetence.
But for decades it has skilfully presented itself, not as merely one party with a specific agenda, but as South Africa's entire political spectrum.
The ANC encompasses tight-fisted monetarists, profoundly practical moderates, and fire-breathing Marxists.
At some point those contradictions may well spell electoral defeat, but for now, the ANC still manages to convince plenty of South Africans that all the answers lie within the party - if only it can mend its ways.
The DA offers itself as a more competent alternative, but it has struggled to articulate a comprehensively different platform in the way that, say, Mr Malema, the ANC's former youth leader, and his Economic Freedom Fighters party has done with its populist appeals to the poor and marginalised.
Related Internet Links
The BBC is not responsible for the content of external sites.