Togo police find second huge ivory haul in a week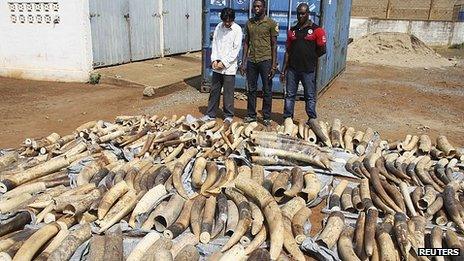 Police in Togo have made their second major ivory discovery in a week.
More than two tonnes of ivory were found in a container destined for Vietnam, bringing the total found so far to almost four tonnes.
Two Togolese men and a Vietnamese citizen have already been arrested in connection with the finds.
Conservationists say the West African country has become a major hub for the illegal ivory trade between Central Africa and Asia.
Togo's Environment Minister Andre Johnson told AFP that all the containers were part of the same shipment, found at Lome port.
"The owner of the container is Vietnamese. He has been arrested with two Togolese nationals," he said.
"Investigations are still ongoing to dismantle this ivory trafficking network."
Despite a global ban on the ivory trade nearly a quarter of a century ago, Africa's elephant population is heading towards extinction.
The number of forest elephants in central Africa has decreased by more than 60% over the past 10 years.
The BBC's Blame Ekoue in Lome says that those who break Togo's protected species laws can face between 10 months and three years in prison.
Togo has become a transit point for traffickers mostly from west and central Africa.
The trafficked ivory is shipped from Lome port to Asia where demand for it remains high.
African countries are struggling to contain the illegal trade.
On Tuesday, a court in Kenya used tough new anti-poaching laws to fine a Chinese man $230,000 (£138,000) for smuggling ivory.
He was caught last week with 3.5kg of the contraband in a suitcase at Nairobi's international airport.
Last August Togo announced it had arrested a man believed to be the kingpin of the country's ivory trade.
Emile Edouwodzi N'bouke, who has denied any wrongdoing, has not yet been brought to trial.
Related Internet Links
The BBC is not responsible for the content of external sites.