Mamphela Ramphele - Helen Zille: South Africa merger collapses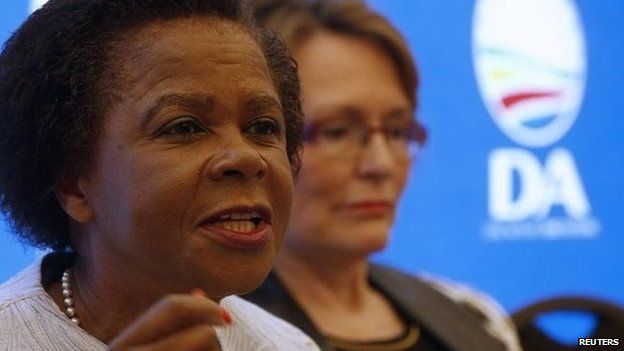 A deal, which would have given South Africa's main opposition Democratic Alliance (DA) a black presidential candidate, has collapsed.
Last week's agreement would have merged the DA with the Agang party of anti-apartheid activist Mamphela Ramphele.
Ms Ramphele had been put forward as the DA's presidential candidate for this year's elections.
The merged party had been billed as the strongest challenger to the ANC since it came to power in 1994.
Ms Ramphele was the partner of one of the veterans of the struggle against white minority rule, Steve Biko, who died in police custody in 1977.
DA supporters had hoped Ms Ramphele would have helped the party tap into voter dissatisfaction with President Jacob Zuma and the ANC (African National Congress), under fire over corruption scandals and stubbornly high poverty levels.
The short-lived union had been billed as a historic change to South Africa's political landscape, as it would have been the first time the DA had fielded a black presidential candidate.
Analysts say it has failed to make significant headway among the majority black electorate amid accusations that it was a vehicle for white interests.
But the merger fell apart at a meeting on Sunday, over whether it was simply a partnership or a complete assimilation of the much-smaller Agang.
"Dr Ramphele reneged on the agreement that she stand as the DA's presidential candidate, and that Agang SA's branches, members and volunteers be incorporated into the DA," said DA leader Helen Zille, in a statement.
She angrily accused Ms Ramphele of saying one thing to the media, another to her Agang supporters and yet another to the DA.
"Dr Ramphele has demonstrated - once and for all - that she cannot be trusted to see any project through to its conclusion," she said.
But Ms Ramphele, responding via Twitter, insisted: "There was no confusion. I remain committed and still am the leader of Agang SA. The focus was to work together in the election."
On Friday, the DA published a joint statement announcing that Ms Ramphele would join its ranks. DA rules say only its members can serve as candidates under its banner.
Ms Ramphele said the statement had been published without her agreement and that she would remain the leader of Agang SA.
Sixty-six-year-old Mamphela Ramphele launched Agang, her own political platform, a year ago, but it has not made an impact. It is now bankrupt and a month ago was unable to pay its staff.
"We are going to take away the excuse of race and challenge the ANC to be judged on its performance," she had said when the deal was announced.
"We are taking away that race card and putting it in the dustbin."
However, the ANC alleged that the DA was using her because of the colour of her skin.
"It's a rent-a-leader and rent-a-black face," Gwede Mantashe, the ANC's secretary general said.
A general election date has not been announced, but could come as soon as April - 20 years after the first democratic elections, which ended decades of rule by the white minority.
The president is chosen by MPs, so a party must win a parliamentary majority for its candidate to be sure of leading the country.
As a community doctor who worked in the Eastern Cape alongside Steve Biko, Ms Ramphele led grassroots resistance against white minority rule in the 1970s.
She went on to become a director of the World Bank, a vice-chancellor at the University of Cape Town, and until recently sat on the board of a major mining company.
Agang is named after the Sesotho word for "Let us build".
Related Internet Links
The BBC is not responsible for the content of external sites.