Kenyan governor Kabogo apologises over single women slur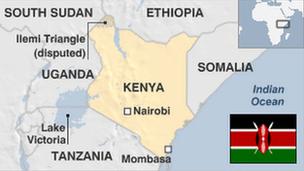 A Kenyan politician has apologised for suggesting that unmarried women are not effective leaders.
Local leaders and activists criticised the comments by Kiambu County Governor William Kabogo, saying they were demeaning to the women.
The row involved unmarried MP Alice Ng'ang'a, who opposed his new taxes.
The dispute highlights the cultural and social stereotypes that have held back women from running for public office in the past.
A constitution enacted in 2010 created positions for women MPs for each of Kenya's 47 counties.
"If you are 35 and don't have a husband, there is something wrong… We will start demanding that you are married before you are elected," Mr Kabogo told a rally last week broadcast by Kenya's NTV television.
"You young ladies; look for husbands and get married. You are the ones causing problems," he added.
Kenya's Daily Nation newspaper further quoted the governor as saying: "Someone who is able to manage a home is equally able to run the affairs of the people. But if you cannot manage a home … can you manage public affairs?"
Kenyan media said the remarks were directed at Ms Ng'ang'a, a single mother, who opposed new levies recently proposed by the governor.
In response, she said the people in her constituency, within Kiambu County, who had voted her into office were aware that she was a single mother.
Mr Kabogo had said levies needed to be paid if residents in the county expected the regional government to provide quality services.
He accused Ms Ng'ang'a of inciting traders against the proposed taxes she described as "unreasonable charges and [a] tax on the people".
Rukia Subow, the chairperson of a women's lobby group, Maendelea ya Wanawake, said Mr Kabogo's comments were "discriminatory".
"Leadership is about brains not skirts," she told the Daily Nation.
After earlier saying he had been misquoted, Mr Kabogo, who has six women in his eight-member cabinet, apologised on Tuesday.
"I seek forgiveness to all those that I have offended in the course of my life. On my side, I forgive all those who have sinned against me," Kenya's Star newspaper quoted him as saying.
Correspondents say notwithstanding the changes in the law, female candidates in elections continue to face many barriers, including the threat of violence and a lack of money and political networks.
Related Internet Links
The BBC is not responsible for the content of external sites.