Tanzania denies huge MP pay-off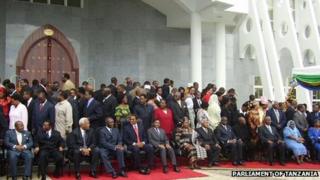 Tanzania's government has denied that MPs will be paid $98,000 (£60,000) each at the end of their parliamentary term.
The deputy speaker has also denied that MPs will get the new benefits, which represent a 274% increase since 2010.
Local media said that the money was approved by the treasury last year, but only reported this week.
News of the package, in addition to a monthly salary, was received with shock in the country, where 28% of the population live below the poverty line.
Permanent secretary in the Ministry of Finance told the BBC he was "surprised" to read about the benefits in the local press.
"This is not true at all," Servacius Likwelile told the BBC Swahili service.
Leading newspaper The Citizen last week quoted Finance Minister Saada Mkuya confirming that the gratuity was raised last year, and that the treasury had set aside the cash.
Tanzania's 375 MPs are paid a monthly salary of almost $7,000.
They also receive $22,200 a year for attending parliamentary sessions and an annual care allowance of about $13,000.