USAid 'not plotting to topple Kenya government'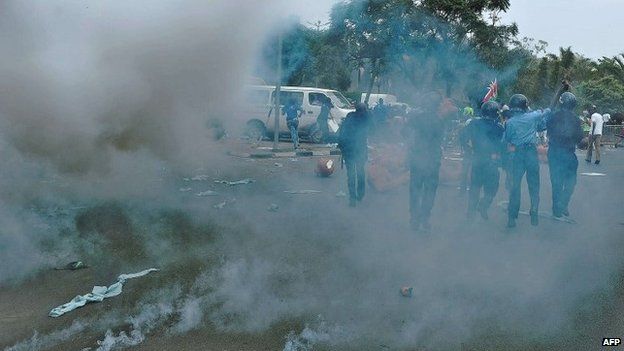 The US has denied claims that it is funding attempts to "topple" the Kenyan government, amid worsening relations between the two countries.
Kenya's cabinet Secretary Francis Kimemia accused US development agency USAid of funding Thursday's anti-government protests in Nairobi.
But US ambassador to Kenya Robert Godec dismissed the claims as "false".
The US was accused of trying to influence voters not to back President Uhuru Kenyatta in last year's election.
He is facing trial at the International Criminal Court on charges of crimes against humanity, which he denies, over violence following the 2007 election.
Kenyan police use tear gas to disperse the demonstrators, who were protesting at claims of bad governance, corruption insecurity and the high cost of living in Kenya.
Mr Kimemia said the National Security Advisory Committee had evidence that USAid had given money to two activists who had organised the demonstration.
Kenya's Foreign Ministry has been directed to summon USAid officials.
In his statement, Mr Godec said: "We have always and will continue to share information about all our programs with the Kenyan government."
Analysts say that the perceived interference by the US and UK in Kenya's election was turned by Mr Kenyatta into a question of national sovereignty and helped him win.
Kenyan has also mobilised support from the African Union in its campaign to have the charges against Mr Kenyatta dropped.
The African Union says the ICC is unfairly targeting African leaders in its investigations.