Photo from Djibouti wins World Press Photo award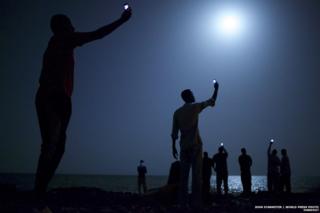 US photojournalist John Stanmeyer has won first prize in the 2014 World Press Photo awards for his image of African migrants near Djibouti city.
The moonlit image shows men trying to get a phone signal from nearby Somalia.
Panel member Jillian Edelstein said the photo raised issues of technology, globalisation, migration, poverty, desperation, alienation and humanity.
The prestigious awards, selected by an expert panel, have been running since 1955.
Stanmeyer shot the winning image while on assignment for the US-based National Geographic magazine, and said that it was an honour to win the prize.
"It connects to all of us," he told the AFP news agency.
"It's just people trying to call loved ones. It could be you, it could be me, it could be any one of us."
Another panel member, Susan Linfield, said: "So many pictures of migrants show them as bedraggled and pathetic... but this photo is not so much romantic, as dignified."
Almost one hundred thousand pictures were submitted for the competition.
Stanmeyer is a founding member of the VII photo agency.
He has been the recipient of several other honours including the Magazine Photographer of the Year and Picture of the Year awards, as well as the 2008 National Magazine Award for Photojournalism.