Militants in Tunisia kill four, including two police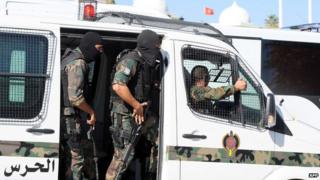 Gunmen in western Tunisia have killed four people, including two police, after setting up a roadblock and shooting at cars.
The interior ministry said that a police patrol had been sent to the Jendouba area to investigate reports that two people had been shot dead.
The gunmen then fired on the police car, killing two officers inside.
Tunisian security forces have fought a long campaign against Islamist militants over the past two years.
Four people were also wounded during the attack, which took place in the early hours of Sunday.
Authorities say they are trying to track down the group of four gunmen.
Raids on militants
Insecurity in the North African country has increased since the overthrow of long-time president Zine El-Abidine Ben Ali in 2011.
Earlier in February special forces killed seven militants in a raid in Tunis.
One of those killed was the chief suspect in two high-profile political assassinations which happened last year.
In addition, more than 20 members of the Tunisian security forces were killed last year during operations against Islamist militants in the west of the country.