South Africa illegal mining: Bodies found in Roodepoort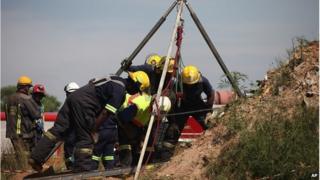 The bodies of five illegal miners have been found near a disused gold mine in South Africa, emergency workers say.
Four men and a woman were discovered by the shaft of a mine in Roodepoort, west of Johannesburg.
Their deaths come a week after the high-profile rescue of more than 20 illegal miners trapped underground at an old mine east of Johannesburg.
They were arrested after they emerged and are facing charges related to illegal mining.
South Africa loses millions of dollars to illegal mining activities annually, officials say.
The land around Johannesburg is dotted with disused mine shafts, which attract men from around the region, including Lesotho, Mozambique and Zimbabwe, with the promise of remaining gold deposits.
While many are no longer commercially viable, they still contain enough deposits to attract scores of the region's city's unemployed.
"It looks like they might have been brought to the surface by their colleagues because we found the bodies outside the shaft," Emergency Management Services spokesman Robert Mulaudzi told the AFP news agency.
Paramedics have not ruled out the possibility of finding more miners trapped underground.
A body of another illegal miner was recovered on Sunday in Roodepoort, near where the five bodies were found on Tuesday night.
Mining is a vital part of the South African economy and the country is the fourth-biggest gold exporter.
According to South Africa's Department of Mineral Resources, a 2008 study of the gold sector found that an estimated $509m (£309m) in revenue was lost a year as a result of illegal mining.
South Africa has some of the world's deepest gold mines and safety is a major issue.