South Sudan: Violence 'jeopardising MSF work'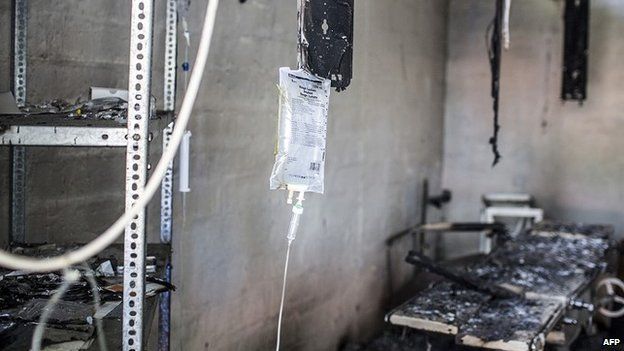 Medical charity MSF has warned its work in South Sudan is being jeopardised as a result of "brutal" attacks on medical facilities in which patients and its hospital staff have also been targeted.
Hundreds of thousands of people have been effectively denied lifesaving assistance, MSF says in a new report.
Fighting between the government and rebels since mid-December has displaced about 860,000 people, the UN says.
The sides have accused each other of violating a January ceasefire.
"As entire towns in South Sudan suffer devastating attacks, medical care has also come under fire, with patients shot in their beds, wards burned to the ground, medical equipment looted and, in one case, an entire hospital destroyed," the MSF report released on Wednesday says.
MSF mission head Raphael Gorgeu said hospitals are "now targets of attack and brutality" rather than "safe havens for treatment".
He said: "Assaults on medical facilities and patients are part of a broader backdrop of brutal attacks on towns, markets and public facilities.
"These attacks show a complete lack of respect for medical care and deprive the most vulnerable of lifesaving assistance just when they need it most."
The report lists numerous recent "gruesome attacks", including:
Patients murdered in their beds in the town of Malakal, Upper Nile state
A hospital in Leer, Unity state, was "thoroughly looted, burned and vandalised"
The MSF compound in Bentiu, capital of Unity state, was looted amid heavy fighting
On 22 February, MSF teams discovered at least 14 bodies at the Malakal teaching hospital compound, scattered among 50 to 75 patients who remained in the facility, too weak or elderly to flee for safety.
"Several patients showed signs they had been shot dead while lying in their beds," it said.
"Many of the hospital wards, including the therapeutic feeding centre for malnourished children, had been burned, and general looting had clearly taken place throughout the hospital."
Malakal, a dusty market town that serves as the gateway to the oilfields of the Upper Nile region, has been at the centre of clashes and has repeatedly changed hands.
Local MSF emergency co-ordinator Carlos Francisco said he can "find no words to describe the brutality in Malakal, which has left in its wake a ransacked city and a thoroughly traumatised people".
Last month the army said that it had recaptured the town after days of heavy fighting.
What started as a political dispute between President Salva Kiir and his former deputy Riek Machar escalated into full-scale conflict, with some of the fighting along ethnic lines.
Although both men have supporters from across South Sudan's ethnic divides, fighting has often been communal, with rebels targeting members of Mr Kiir's Dinka ethnic group and government soldiers attacking Nuers, Mr Machar's people.
MSF has 333 international staff working in its projects alongside 3,330 South Sudanese staff.
Related Internet Links
The BBC is not responsible for the content of external sites.