Twin Nigeria blasts kill at least 50 in Maiduguri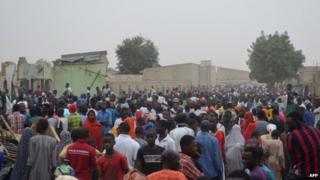 Two explosions targeting a busy market in the town of Maiduguri in northeast Nigeria have left at least 50 people dead, the Red Cross says.
Hospital sources say many of the victims were children.
Maiduguri is the headquarters of a military force fighting against the Boko Haram Islamist group, which has stepped up its attacks in the area.
No group has yet claimed responsibility for the attack on Saturday night.
It happened at a crowded market near the airport. The blasts were so powerful that buildings were reduced to rubble.
The bombs were hidden inside a truck full of wood and inside a saloon car. As people tried to rescue victims of the first blast, the second was detonated.
At the time of the explosions many people were crowded in a video hall in the area watching football. There was also a wedding taking place nearby.
Air strike
In a separate incident, eyewitnesses told the BBC that 20 people were killed in a government air strike in the village of Daglun on Friday.
Military jets have been bombing the area for weeks as part of a campaign against the Boko Haram group.
An army spokesman told the Associated Press that he was unaware of the death of any civilians in an air strike.
President Jonathan declared a state of emergency in Adamawa, Yobe and Borno states last year in an attempt to curb the insurgency.
His critics say the state of emergency has been ineffective, with Boko Haram stepping up attacks in the region.
The group is thought to have killed at least 37 people during an assault on a town and nearby villages Adamawa state on Thursday.
It was also blamed for killing at least 29 people in an attack on Monday night on a rural boarding school in Yobe state.
Boko Haram has been conducting a four-year campaign of violence to push for Islamic rule in northern Nigeria.