Libya MPs shot and wounded as congress stormed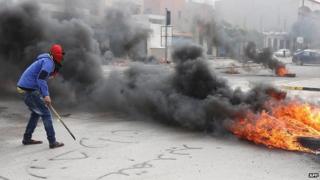 Two members of Libya's parliament were shot and wounded when protesters stormed the General National Congress (GNC) in the capital, Tripoli.
Witnesses said the two were hit as they tried to drive away from the scene.
The protesters, who rampaged through the building, were demanding that the GNC be dissolved and a date set for early elections.
There have been demonstrations across the country since congress extended its mandate until later in the year.
Those who entered parliament on Sunday said they were also angry about the "kidnapping" overnight of demonstrators from a sit-in outside congress.
They said those responsible belonged to a former rebel group that operates under the GNC's command.
The protesters - mostly young people armed with knives and sticks - stormed the building chanting "resign, resign", AFP reported, citing a member of the GNC.
Nuri Abu Sahmein, the speaker, told Al-Nabaa TV that a peaceful protest had been "infiltrated" by armed men.
"Two (GNC) members were hit by bullets when they tried to leave the venue in their cars," he said.
It was not immediately clear how seriously injured the two were.
Images posted on social media showed protesters dragging what they said was the speaker's chair outside parliament and setting fire to it.
The BBC's Rana Jawad in Tripoli says congress has been stormed several times in the past year by various groups and has also been besieged my militias.
Peaceful elections were held in Libya last July. However, the North African country is still struggling for stability, three years after the uprising that overthrew late ruler Muammar Gaddafi.