Pistorius trial begins amid tears and 'scream' testimony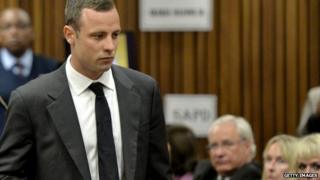 South African Paralympic athlete Oscar Pistorius seemed much more composed at the start of his televised murder trial - unlike the man who broke down on the stand during his bail hearing last year.
He denied "wilfully and intentionally" killing his girlfriend of three months, Reeva Steenkamp, on Valentine's Day 2013.
He also pleaded not guilty to three other charges relating to the reckless handling of a firearm.
After each charge was read, Judge Thokozile Masipa asked: "Do you understand the count against you?" - to which Mr Pistorius replied: "I do my lady."
A poised and experienced judge, Ms Masipa spoke with a gentle voice in moments where she required further clarity.
As South Africa does not have a jury system, she is the woman who will determine Mr Pistorius's fate.
Assisted by two assessors, she will decide whether Ms Steenkamp's death was calculated and deliberate or whether, as Mr Pistorius puts it, it was the result of a "tragic accident".
'Loving relationship'
As the eyes of the world are fixed on the fallen sporting hero, South Africa's justice system is also on trial.
There is a perception, especially in poor communities, that the rich are above the law.
It is only a perception, but the courts are keen to show that this is not the case, one of the reasons the proceedings are being partially televised live, a precedent in South Africa.
The trial is possibly the most publicised case since Jacob Zuma was cleared of rape in 2006, three years before he became president.
For the Steenkamp family, the trial is a harsh reminder of their loss; it is also the first time that Reeva's mother, June, has come face-to-face with the Olympic athlete.
Dressed in black, Mrs Steenkamp looked sombre throughout and occasionally wiped away a tear.
The two families were sharing the same bench in the courtroom, but there was no interaction between them.
In a statement read out in court explaining his "not guilty" pleas, Mr Pistorius said the state's case was "circumstantial".
He said he and Ms Steenkamp were in a "loving relationship" and said he denied "in the strongest terms" the allegation that he murdered the model and reality TV star in cold blood.
'Blood-curdling screams'
It then turned to prosecutor Gerrie Nel to set out the state's case, calling the first witness, Michelle Burger, a lecturer at the University of Pretoria.
She told the court in Afrikaans that she heard "blood curdling screams" in the early hours of the morning when Ms Steenkamp died.
There were four gun shots, "bang, bang, bang, bang", she said, prompting some sighs from those in court.
Her house is in the gated Silver Stream estate, some 170m (185 yards) from Mr Pistorius's home in the neighbouring Silverwoods estate.
During cross-examination she told defence lawyer Barry Roux: "You only shout like that if your life is being threatened... it was very intense."
She also testified that she heard a man call for help, three times: "Help, help, help."
Ms Burger said at the time she believed the people screaming were being attacked by burglars.
Mr Pistorius looked on as Ms Burger gave her evidence.
Dressed in a charcoal suit and a white shirt, he sat quietly writing on his notepad - if he was anxious, he did a good job of hiding it.
Such is the interest in the case that next to the courtroom is an "overflow room", to accommodate members of media and the public - all listening intently to the arguments.
Everyone here seems to have an opinion on the trial - and it does not take much for a matter to become political here.
Outside the court, members of the local African National Congress (ANC) Women's League gathered singing struggle songs in the rain.
"We are here for Reeva; she was killed and we want answers," they told me.
Another woman who works in the capital said: "I am supposed to be at work but I had to come and see this for myself."
Known as the "blade runner," the double amputee athlete with his more than 20 gold medals has been the personification of the endurance of the human spirit for many South Africans.
Amongst the other onlookers outside court was Tshepo Lehong, a resident of Soshanguve, a township outside Pretoria.
"This is going to be a long trial but I want to see how it is going to end, I have to see what happens to Oscar," he said.
With more than 100 witnesses expected to testify, it may well be longer than the three weeks scheduled for the trial.
But more than a year on from the tragic shooting, the events of those early hours of Valentine's Day are coming into focus.