South Sudan soldiers die in 'pay battle' at army HQ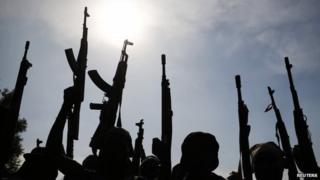 Five soldiers have been killed in a shooting in the main military barracks in South Sudan's capital, Juba, an army spokesman has said.
Fighting broke out following a dispute over pay, Brig Malaak Ayuen said
But Juba-based journalist Mading Ngor told the BBC many soldiers at the barracks told him that up to 100 may have been killed in the battle.
Many people living near the barracks have fled to schools and churches, seeking safety.
The shooting erupted in the same barracks where fighting between rival army units sparked off a wider conflict in South Sudan in December.
There were no indications that the fighting had spread to other areas, Brig Ayuen said.
Presidential guards and other elite forces are based at the compound, near the city's university.
"We're fighting over money," a soldier shouted from the entrance of the Jebel barracks as gunshots rang out, Reuters news agency reports.
'Ghost employees'
BBC Africa security correspondent Moses Rono says the shooting ended after about an hour.
While the army says the fighting was limited, it had engulfed the entire barracks and heavy artillery was used, Mr Ngor told the BBC Focus on Africa radio programme.
Many people are scared that the conflict could erupt again, and Juba remains tense, he says.
Troops loyal to the government have been deployed in heavy numbers in surrounding streets, and roadblocks have been set up, Reuters reports.
The US embassy in Juba has issued a statement, advising its nationals to stay indoors, the AFP news agency reports.
Brig Ayuen said on state television that the five dead soldiers were "martyrs".
The fighting erupted after soldiers argued with a military pay panel over delayed salaries, Brig Ayuen said.
The government has introduced a new payment system to curb corruption, following concerns raised by donors, Reuters reports.
It requires soldiers and civil servants to receive their wages in person so that money is not paid into the accounts of "ghost employees" or to those who do not turn up for work, it says.
South Sudan, the world's newest nation, became independent in 2011.
In December, fighting broke out between troops loyal to President Salvar Kiir and his sacked deputy Riek Machar, forcing some 860,000 people people to flee their homes.
A ceasefire was agreed between the two sides towards the end of January, but they have accused each other of violating it.
Peace talks hosted by Ethiopia are currently suspended and are expected to resume on 20 March.
and