South Sudan protest against UN over arms cache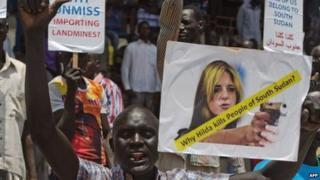 More than 1,000 people have protested in South Sudan's capital, Juba, accusing the UN of arming rebels.
On Friday, the government said its troops had intercepted weapons in a UN convoy marked as carrying food.
The UN denied the arms were destined for rebels, but acknowledged it made a mistake transporting them by road.
The UN has about 8,000 peacekeepers in South Sudan, the world's newest state where conflict broke out in December between government and rebel forces.
In January, South Sudan's President Salva Kiir accused the UN of running a "parallel government" in his country - a charge it denied.
'Arms for Ghanaian troops,
The latest incident will increase government animosity towards the UN mission in South Sudan, known as Unmiss, says Juba-based journalist Mading Ngor.
Protesters demanded the resignation of UN South Sudan special representative Hilda Johnson at the rally addressed by top government officials.
"Down Hilda Johnson. Go away," protesters chanted.
UN spokeswoman Ariane Quentier told BBC Focus on Africa that a high-level UN team would arrive in South Sudan on Tuesday to carry out a joint investigation with the government into the incident.
The UN acknowledged that it had breached an agreement with the government when it transported the weapons by road, rather than by air, Ms Quentier said.
"This is a very, very regrettable mistake because it sent absolutely wrong signals," she added.
Government troops intercepted the weapons in Rumbek, the capital of Lakes State, as they were being transported to Bentiu, the capital of Unity State, Ms Quentier said.
The weapons were for Ghanaian troops who had arrived in South Sudan to join Unmiss, and not for rebel forces, she said.
In December, fighting broke out between troops loyal to President Kiir and his sacked deputy Riek Machar, forcing some 860,000 people people to flee their homes.
A ceasefire was agreed between the two sides towards the end of January, but they have accused each other of violating it.
Peace talks hosted by Ethiopia are currently suspended and are expected to resume on 20 March.
South Sudan became independent in 2011 after a decades-long fight against the Sudanese government in Khartoum.
and