South Sudan's Pagun Amum treason trial starts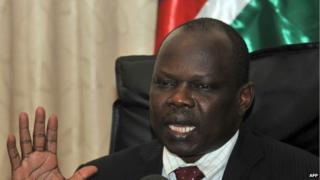 Four top South Sudanese politicians have gone on trial on charges of treason after being accused of plotting a coup against the government.
This was their first court appearance since their arrest in December, when a rebellion that has killed thousands of people broke out in South Sudan.
The accused held senior posts in the governing party before falling out with President Salva Kiir.
They have not yet pleaded to the charges read out in court.
'Audio recordings'
However, they have previously denied the charges - which carry the maximum sentence of death.
The four are:
Pagan Amum, former secretary general of the ruling Sudan People's Liberation Movement (SPLM)
Oyai Deng Ajak, former national security minister
Majak D'Agoot, former deputy defence minister
Ezekiel Lol Gatkuoth, former ambassador to the US.
They were smartly dressed in suits - not prison uniforms - when they appeared in court in the capital, Juba, says journalist Mading Ngor, who was there.
Heavily armed soldiers were in court and the public gallery was packed as dozens of people turned up to follow the trial, he says.
The accused smiled from time to time, and seemed to be in good health, he adds.
The prosecution said it had audio recordings to support its case against them.
In addition to the treason charge, they are accused of inciting the army and fuelling an insurgency in South Sudan, the world's newest state which became independent in 2011.
Conflict first broke out in Juba on 15 December between troops loyal to Mr Kiir and those allied with his sacked deputy, Riek Machar.
It later spread to other parts of South Sudan, leaving hundreds of thousands of people homeless.
Eleven ex-officials were arrested in December, but seven of them were later released.
Mr Machar, who denied any coup plot, fled Juba. He then launched a rebellion against the government.
The two sides signed a ceasefire agreement on January 23, but sporadic fighting has continued.
The release of the prisoners has been a key demand of the rebels, but the government has insisted that they should be put on trial for the alleged coup plot.
and