Oscar Pistorius trial: Week two round-up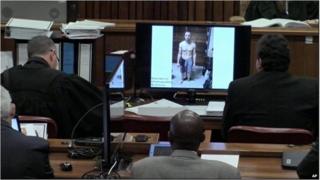 The trial of South African Paralympic athlete Oscar Pistorius for the alleged murder of his girlfriend Reeva Steenkamp has completed its second week.
That is two-thirds of the time originally allotted to hear the case, but with a long list of witnesses yet to appear and a defence lawyer aggressively challenging the prosecution case every step of the way, it is thought it will be extended.
Here is how our reporters covered the week's big moments, via tweets and video reports.
Day six - Monday 10 March
Day seven - Tuesday 11 March
Day eight - Wednesday 12 March
Day nine - Thursday 13 March
Day ten - Friday 14 March