Uganda Lake Albert boat disaster 'killed 251 refugees'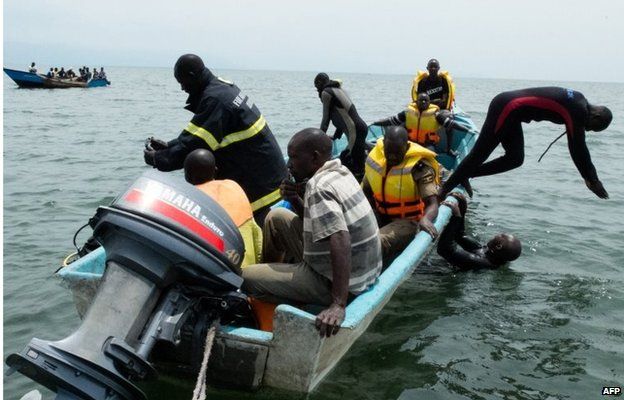 More than 250 people died in last Saturday's boat capsize on Lake Albert between the Democratic Republic of Congo and Uganda, a minister has said.
This is a sharp increase on the initial death toll, partly a result of the vessel carrying many more passengers than the official capacity of 80.
The boat was taking Congolese refugees in Uganda back to their home country.
Boat accidents are common in both countries because of poor safety standards and overloading.
Congolese authorities have declared three days of national mourning for the victims of last Saturday's disaster - among whom were many children.
On Tuesday they made up more than half of the then death toll of 107. About 300 people are now thought to have been aboard.
"It is with deep sorrow that we confirm to the nation the death of 251 of our compatriots who had boarded the boat from the Ugandan side of Lake Albert," said Congolese government spokesman Lambert Mende Omalanga, adding that "we have managed to have something like 50 people who have escaped."
Congolese authorities are helping to support survivors, while arranging funerals for the dead, he said.
Saturday's disaster happened just days after DR Congo launched a campaign to enforce the wearing of life jackets on all boats on its many waterways.
It is common for boats in both countries to have too few, if any, life jackets on board.
On Monday, the UN high commissioner for refugees Antonio Guterres said he was deeply shocked by the disaster.
"I am grateful to the government and other actors who have mounted a rescue-and-recovery operation and are assisting the survivors.''
The boat was one of two which left on Saturday from Uganda's Hoima district on the eastern side of the lake, which lies on the border with DR Congo.
The boats were carrying refugees who had been living at a camp in Uganda, and had decided to return to eastern DR Congo of their own accord, the UNHCR said.
Related Internet Links
The BBC is not responsible for the content of external sites.