Central African Republic: Bangui grenade attack kills 11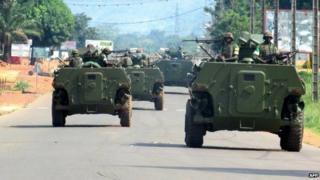 A grenade attack on a funeral in Bangui, capital of the Central African Republic, has killed 11 people, the Red Cross says.
A government minister earlier said 20 people were killed, but several sources told the BBC the number was lower.
Local residents blame the attack on former fighters from the Seleka militia.
The country has been hit by civil conflict since Seleka rebels ousted the president in March 2013.
The attack happened at around 23:00 on Thursday (22:00 GMT), Public Security Minister Denis Wangao Kizimale told national radio.
Mr Kizimale told local radio that the attackers were "extremists well-known to the police", according to the AFP news agency.
CAR's Red Cross head Antoine Mbao Bogo told the BBC that in addition to the 11 deaths, 14 people were wounded.
He also said that Red Cross volunteers were mugged by unidentified armed men on their way to collect bodies and had their phones stolen.
There were no casualties but the BBC's Thomas Fessy says the incident shows how difficult it is for aid workers to operate in CAR at the moment.
The conflict has taken on an increasingly sectarian nature, with UN human rights chief Navi Pillay warning last week that hatred between Christians and Muslims in CAR had reached a "terrifying level".
There have been horrific attacks, including acts of cannibalism and children's heads being cut off.
Around a quarter of the country's 4.6 million people have fled their homes.
After the mainly Muslim rebel Seleka group deposed President Francois Bozize and installed their leader Michel Djotodia as president, it was accused of targeting Christians.
In January, Mr Djotodia was in turn forced to step down amid criticism he had not done enough to stem sectarian violence.
Since then, Muslims have been singled out for attack, with thousands fleeing their homes, many to neighbouring countries such as Cameroon and Chad.
Some 6,000 African Union and 2,000 French troops have been sent to CAR to try to halt the bloodshed but officials want the UN Security Council to deploy a force of around 12,000.