Tunisian police rape victim defiant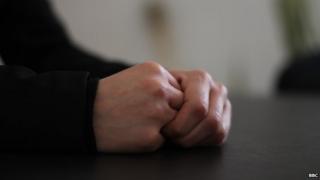 Tunisia was praised for passing a progressive constitution in January that explicitly protects women against violence. But the protracted case of a Tunisian victim of police rape, who persevered in her pursuit of justice despite being initially charged with indecency, epitomises the challenges that lie ahead.
Despite a verdict in her favour, the 29-year-old woman, who is known under the pseudonym Meriem Ben Mohammed, is still too crushed to speak after the trial.
Two policemen have been found guilty of raping her, and sentenced to seven years in prison. A third officer received a two-year sentence for extorting money from the woman's fiance.
But according to her lawyers, Meriem broke down during Monday's hearing when the defendants accused her of having tried to seduce them.
The defence team also provided forensic reports to show that the victim was not a virgin.
Meriem's legal team suspects that this might have been the reason for what they consider a lenient sentence for rape, as many consider sex outside marriage a taboo in Tunisia.
"The average sentence in Tunisia for rape is between 10 to 15 years in prison. Lifetime is the maximum," says Martin Pradel, one of Meriem's lawyers.
"The judge should have considered the fact that they were policemen on duty. They got away lightly. We want to appeal."
Meriem agreed to a rare meeting in person before the verdict and sentences were handed down.
Out of fear of being stigmatised by members of her family and the public, she did not want to be identified.
Her left arm was tightly wrapped around her body while she spoke. Her quiet voice broke as she recounted the alleged sexual assault in minute detail.
Handcuffed
The 3rd of September 2012 was meant to be a day of celebration.
Meriem had been out for the evening with her boyfriend, who had just started a new job.
On their way home they stopped their car in Ain Zaghouan, a middle-class suburb of Tunis.
Then, Meriem says, three men - who said they were from the police - asked them to unlock the car door.
Her boyfriend was immediately handcuffed by one of the men, and led to a cash machine, allegedly to extort money.
With her boyfriend out of sight, Meriem says she was dragged by the other two policemen to their car.
"One got in next to me, and the other one sat in the driver's seat," she says.
"The one sitting next to me immediately unzipped his pants, pulled my head down and tried to force me to perform oral sex. I pulled my head back and he grabbed my head violently."
Then, Meriem says, she was repeatedly raped by both men in the police car.
"I was so shocked, I went numb. After the first one raped me, I was crying and telling him to let me go," she remembers.
"I grabbed the door to try to escape. He shut the door on my hand, and almost tore my finger off."
Dismissive
The next day Meriem decided to report the rape, but the reaction at the police station was dismissive.
She says she was even taken into police custody, and only released after she had signed a letter agreeing to drop the complaint.
With the help of a team of four lawyers, she eventually managed to file a complaint, but based on witness testimonies of the accused, the public prosecutor initially brought indecency charges against Meriem and her boyfriend.
"It was like being raped all over again," she says.
One of Meriem's lawyers is Monia Bousselmi a prominent Tunisian women's rights activist.
Ms Bousselmi has defended rape victims in the past, but this case she says is special.
"The case of Meriem is a public case, not a personal case. It's part of our long road to democracy," she says.
Women's rights are one of the battle-grounds in the new Tunisia, after the 2011 ousting of long-time leader Zine al-Abidine Ben Ali.
Family pressure
After an outburst of public anger on social media, as well as protests outside the court, the charges against the couple were eventually dropped.
Tunisian President Moncef Marzouki offered a state apology.
But while the court case was underway, Meriem says her personal details were leaked, and she was contacted on social media, via text message and even in person by family members of the policemen.
"I'm scared of the families of my attackers. They came twice to my parents' place," she says.
"They wanted to talk to me, to try to convince me to back down. They said that I had blood on my hands… that I had made mothers cry … that I had made three families cry … that I will regret what I am doing."
Seeking closure
Meriem now lives in France with her boyfriend, but says her life has been revolving around the trial, that was adjourned 11 times before the sentence was passed.
She says that she is suffering from depression and insomnia; that her studies and her relationship have suffered. She is looking for closure.
For many of her supporters, who had been gathering outside the court in Tunis, this is a symbolic case.
One of them, holding up a banner and singing the national anthem, is Ahlem Bousserwel, who is also a member of the Association of Tunisian Democratic Women (ATFD), one of the largest women's rights organisations in the country.
"We have a democratic republic. We need to do more to protect women against violence. This process has taken too long," she says.
In January Tunisia was widely praised after adopting a new constitution, which in Article 46 explicitly protects women against violence.
But human rights campaigners say that the case highlights systemic problems when it comes to handling rape cases.
"There is no framework to protect victims of rape. The reaction of the police and the judiciary is often dismissive," says Amna Guellali, Tunisia director for Human Rights Watch.
"The security forces here are still operating with the same kind of impunity that they enjoyed under the former regime.
"Members of the police and the judiciary need to be trained on how to deal with women who are victims of sexual violence."
'Not about honour'
Ms Guellali thinks that unless there is comprehensive reform of the way the police and the judiciary handle rape cases, Article 46 of the new Tunisian constitution will have little meaning, and rape victims could even feel discouraged from taking legal action.
Meriem thinks the new constitution will make little difference, but hopes that more Tunisian women will follow her example.
"It's not about 'honour'. If we, women, do not stand up for ourselves, it's pointless. Articles can't change anything. Women have to defend themselves," she says.
The two lawyers of the accused, the police union, the Tunisian Interior Ministry, the Justice Ministry, as well the Prime Minister's office were approached for this article, but nobody was made available for comment.