South Africa pupil dies after 'teacher beating'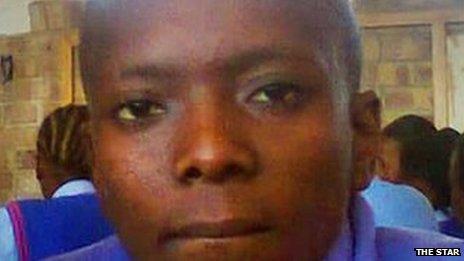 A teacher in South Africa may be charged with murder following the death of a student he allegedly beat around the head with a belt, police say.
The incident left Sizwe Kubheka, 16, deaf and with a badly swollen face, his mother told the local Star newspaper.
Before he died, the teacher was facing a charge of attempted murder. Corporal punishment is illegal in South Africa.
The pupil and his classmates were apparently making noise during a lesson.
"The teacher has been arrested, we have taken him out of the school environment," AFP news agency quotes Gauteng province education spokeswoman Phumla Sekhonyane saying.
"He is facing a very serious charge, in South Africa corporal punishment is completely outlawed," she said.
Police spokesman Tshishiwa Mitileni said that investigators are waiting for the autopsy.
"If the results indicate that the cause of death was due to assault injuries, then the charge will change to murder," he said.
The boy's mother Maria Khubeka told The Star that her son returned home from his school in Palm Springs, south of Johannesburg complaining of a headache on 17 March - the day of the alleged incident.
She said she gave him painkillers because the family could not find transport to hospital. Both his parents are unemployed and depend on social grants.
"My boy was deaf just before he died. He couldn't even hear or see us when we spoke with him at his bedside," the paper quotes Mrs Kubheka as saying.
South Africa banned corporal punishment in schools in 1996, but as many as half of students still get beaten, according to the Cape Town-based Centre for Justice and Crime Prevention, AFP reports.
Related Internet Links
The BBC is not responsible for the content of external sites.