Tunisia policemen jailed for rape of 'Meriem'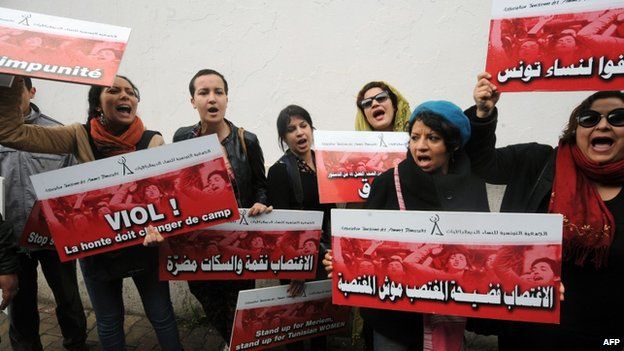 Two Tunisian policemen have been sentenced to seven years in prison for raping a young woman in a case that has triggered angry protests.
The woman, known as Meriem Ben Mohamed, said she was attacked after officers stopped her in a car with her fiance.
The policemen denied the charges, saying they found the couple in an "immoral position".
Attempts to charge the couple with indecency led to public outcry.
Tunisia's President Moncef Marzouki offered a state apology to the woman, who was 27 at the time of the attack.
Hundreds of people have gathered outside a series of court hearings in Tunis to voice their support for her.
The case comes amid renewed focus on women's rights following the 2011 uprising that toppled long-time ruler Zine al-Abidine Ben Ali from power.
The two policemen were convicted after being accused of raping the woman in a police car.
A third officer tried to extort money from her fiance at a bank cash machine, according to reports. He was given a two-year prison sentence.
The woman is said to have broken down in court on Monday after the policemen claimed she had tried to seduce them.
Lawyers for Meriem Ben Mohamed told reporters they were disappointed with the verdicts, saying they were too lenient.
Meriem emerged from the courtroom crying on Monday afternoon, saying: "When I demand justice, they insult me", according to AFP.
Tunisia's public prosecutor had earlier tried unsuccessfully to bring indecency charges against Meriem and her fiance, sparking a storm of protest.
Activists outside the courtroom on Monday held placards saying: "Stand up for Meriem, stand up for Tunisian women".
A psychologist's report, seen by AFP, said the ordeal had caused Meriem to suffer "depression aggravating a state of post-traumatic stress".
Secular Tunisians, especially women, are worried about the growing influence of ultra-conservative Islamists since the uprising.
Following a tense campaign, the country's new constitution includes a clause guaranteeing gender equality in legislative assemblies and puts a burden on the state to protect women against violence.