Kenyan Nairobi blasts: Police arrest 627 in Eastleigh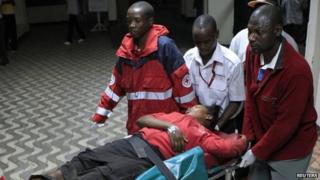 At least 627 people have been arrested in Kenya's capital, Nairobi, following explosions that killed six people, the police chief has said.
David Kimaiyo said about 200 of them were thought to be sympathisers of the militant Islamist group al-Shabab.
The rest of those arrested were still being screened, he added.
The arrests took place in the mainly Somali neighbourhood of Eastleigh, which was hit by three blasts during rush-hour on Monday evening.
"This act of cowardice perpetrated against innocent and peace-loving Kenyans who were going about their normal activities is barbaric," Interior Minister Joseph Ole Lenku said in a statement.
'Petty offences'
Al-Shabab, an al-Qaeda affiliate based in Somalia, has not commented on the Eastleigh attacks.
But it has carried out a spate of attacks across the border in recent years.
Its gunmen laid siege to the upmarket Westgate shopping centre in Nairobi last September, leaving at least 67 people dead.
The blasts targeted a clinic and two small restaurants in Eastleigh, known as "Little Mogadishu" because of its large Somali population.
Some government officials say Eastleigh has become a safe haven for al-Shabab operatives, a charge many residents deny.
The BBC's Caroline Karobia in Nairobi says the arrests do not come as a surprise - the police tend to carry out mass arrests after such attacks and charge people with petty offences like loitering.
A week ago, more than 100 people were arrested following an attack on a church near the coastal city of Mombasa.
Unidentified gunmen entered the church, killing six people.
Kenya's government has ordered all Somali refugees living in towns to move into designated camps in a bid to end the attacks.
A refugee group condemned the decision as illegal.
Kenya sent troops to Somalia in 2011 to fight al-Shabab.
The group vowed to retaliate by launching attacks on Kenyan territory.
President Uhuru Kenyatta has said Kenya's tourism sector is "on its knees" because of the threat from Islamist militants.
Mr Kenyatta met ethnic Somali leaders last week to ask for their help in identifying people they thought may be behind recent attacks in the capital.
"We all have a responsibility to bring this to an end," Mr Kenyatta said.