CAR conflict: UN warns 19,000 Muslims 'face slaughter'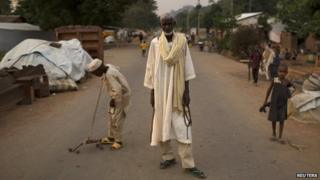 The UN's refugee agency has expressed fear for the lives of thousands of Muslims at risk of getting "slaughtered" by Christian militia in the Central African Republic.
The UNHCR said it was trying to evacuate some 19,000 Muslims from areas near the capital, Bangui.
Nearly 16,000 people had fled their homes in Bangui in the past 10 days amid an upsurge of violence, it added.
Unrest broke out after Seleka rebels ousted the president in March 2013.
Despite the deployment of some 6,000 African Union and 2,000 French troops in the country, violence has continued unabated.
The conflict has taken on an increasingly sectarian nature, with UN human rights chief Navi Pillay earlier warning that hatred between Christians and Muslims in CAR had reached a "terrifying level".
'Muslim exodus'
On Tuesday, the UNHCR said it was particularly concerned for Muslims who had fled to the so-called PK12 district in Bangui. Other danger zones include Carnot, Berberati, Boda and Bossangoa - cities all currently surrounded by Christian militia known as the anti-Balaka.
"UNHCR stands ready to assist with their evacuation to safer areas within or outside the country," spokeswoman Fatoumata Lejeune-Kaba said.
"We don't want to stand by and watch people being slaughtered."
She added that "the only thing keeping them from being killed right now" was the presence of French and African Union troops.
The announcement comes just days after Chadian troops deployed in CAR opened fire on residents of mainly Christian neighbourhoods in northern Bangui, killing at least 24 people.
The International Committee of the Red Cross describes the situation in the country as one of constant danger, and one where all basic services have collapsed, the BBC's Imogen Foulkes, in Geneva, reports.
There have been widespread reports of horrific attacks, including acts of cannibalism and children's heads being cut off.
In February, Amnesty International said militia attacks had led to a "Muslim exodus of historic proportions".
After the Seleka deposed President Francois Bozize and installed their leader, Michel Djotodia, as president last year, they were accused of targeting Christians.
In January, Mr Djotodia was in turn forced to step down amid criticism he had not done enough to stem sectarian violence.
Since then, Muslims have been singled out for attack, with thousands fleeing their homes, many to neighbouring countries such as Cameroon and Chad.
In total, around a quarter of the country's 4.6 million people have fled their homes since the conflict broke out.